Class of 2011: Robert Ware, Royal College of Art
The City of London's security system has become obsolete. Terrorism is evolving.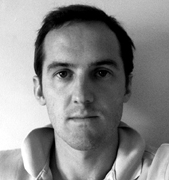 STUDENT STATEMENT
Repository of the Eternal Now
Cyberattacks threaten increasingly vulnerable digital data whilst technologies dictate that we continually rely on its ubiquity. The country's economy thrives off global trade establishing the London Stock Exchange as a principal terrorist target. The Church of England invests £4.5 Billion in the Stock Market as donations from churchgoers decline, so an interdependent solution uses new technologies to 3-dimensionally print volatile, digital stock market stat in stone in a perverse regression, providing a prophylaxis to modern terror and bestowing mutual longevity upon both the church and the economy.
My addition to St Paul's Cathedral continuously builds itself up in real-time using data from the 41 stock market industry sectors, safely archiving the subsequent physical data in towers which grow in relation to the sector's success. The repository finally fulfils Wren's unaccomplished ambition for St. Paul's incorporating a stark, securocratic exterior with a dynamic interior richly adorned with intertwining iconographies.
TUTOR STATEMENT
Robert Ware's Repository of the Eternal Now is part of a year-long investigation that ADS1 undertook on the impact of digital technologies on urban environments. The site for the year was the City of London and students were encouraged to rethink how historical building types such as banks and churches would be impacted by the growing information revolution.
Robert concentrated on the issue of digital archiving; their endless growth, financial value and consequent exposure to cyberattacks. His project particularly explores how the London Stock exchange could protect and value its ever-growing database of transactions by storing it physically. Rather than relying on the internet, the data are reposited in stone, in real time in S. Paul's Cathedral by rapid prototyping machines. By mutually shielding other's interests, the project ironically celebrated the conflation of moral and financial values.
Robert's project outstandingly wove together a variety o scales: from the urban move to complete Wren's project to the exuberant detailing of the interiors, the proposal exquisitely demonstrated how historical architectural languages can co-exist with cutting-edge technologies.
The final drawings mix different media to coherently represent the building in a state of becoming: a small rapid-prototyping machine-which Robert built- add in real-time 3D parts to traditional plans and sections.
Roberto Bottazzi
Tobias Klein