Class of 2011: Joe Haire, Manchester School of Architecture
A crisis of ageing looms, the baby boom generation is coming into retirement and we are living longer
STUDENT STATEMENT
"Celestial Care", Community for 6000 residents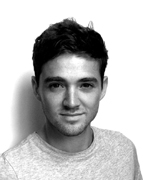 This thesis explores solutions to our care deficiency, elderly mobility issues, community fragmentation and our attitudes towards the elderly.
The thesis aims to achieve a utopian solution to the later stages of life, retirement as a whole, not merely the final stage of life, which is so often compromised by illness. My research shows the provision of elderly care and retirement villages in the UK convinced me that a template for a community of residents at all stages of retired life could be established. This template is applied to the 22,000 people over 65 in Huddersfield. This population is broken down by area into a polycentric network of communities. The thesis focuses on the largest of these centres; a care community for over 6000 people.
Designing for 6000 residents individually would be a monumental task and therefore a code was written, based on earlier research into cybernetics, that would actively distribute form, programme and services to the specification of the required demographic of the community and within the constraints of the site. The code is therefore an endlessly flexible modelling tool for complete retirement communities.
Each new community takes roughly 10 seconds to calculate and design.
TUTOR STATEMENT
[Re_Map] is a design by research unit at the MSA. Students are required to explore latent urban socio-political conditions using data and computational analysis.
Jo Haire ahs negotiated the notoriously challenging gap between the virtual exploration of architecture and its physical product. He has testes hypotheses concerning systems and density using the ageing population as a vehicle for a series of complex analyses and processes. Parallel with a systems approach to organisational structure Joe has examined user groups and their immediate interface with space, models of elderly care across the globe and UK best practice to produce a series of personal spaces that deliver contemporary and conventional environments within an unconventional construct.
Joe acknowledges the provocative imagery and limited exploration made by other data driven practice and has developed a scheme that travels beyond the simple definition of formal and spatial envelopes to produce architecture that, whilst extreme as a polemic, has a tangible quality often underexposed in hypothetical explorations of this type.
The product unsurprisingly raises as many questions as it answers about the politics of care for the elderly and, given recent media exposure, is a timely and pointed exposition of the 'scale' of the issue in this country.