Rotten Utopia: residents of Robin Hood Gardens on their love for the estate
A group of students from St Martins has produced a short film on the Smithons' soon-to-be-demolished Robin Hood Gardens
Rotten Utopia is a response to a project brief by Masters students at Central Saint Martins. Students from across the Masters programmes were split into small, multidisciplinary groups to research, shoot and edit a five-minute video in a day and a half.
The group members behind this film were:
Hsi-Yang Hsieh from MA Industrial Design, Maylinda Bhakdithanaseth from MA Jewellery Design, Sarah Gold from MA Industrial Design, Susan Francis from MA Textile Futures, Thomas Kranabetter from MA Communication Design and Xiaojing Li from MA Communication Design.
The brief asked the students to interrogate somewhere in London that might be a non-place, and make an intervention to discover what relationship people have with space and what gives a place identity. The group chose to interview residents of Robin Hood Gardens whose homes are under threat of demolition.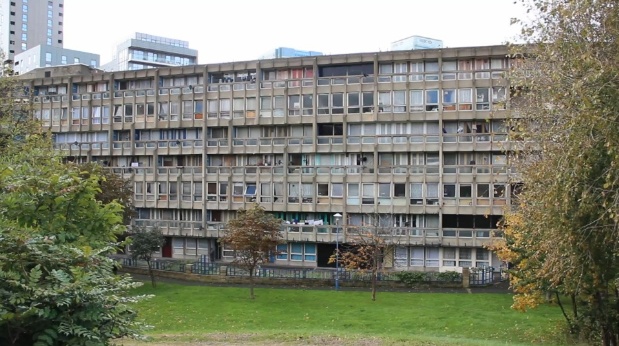 The students interviewed and filmed residents and staff at Robin Hood Gardens to understand how they felt about the estate and the uncertainty of the plans for the future. "They expressed their attachment to the place - their homes and neighbourhood," said group member Sarah Gold.
"Only the caretaker supported demolition because of the blight, the fragmented community and the anti-social behaviour of the squatters that now inhabit many of the empty flats.  
"We came to appreciate the place: the growing gardens, the sense of security in the park, and views over London from the Olympic park to the millennium dome. Even though the fabric of the buildings has been neglected, the place was clean, green and friendly. Inside, the flats were homely and comfortable. Now fragmented, the multi cultural community is still showing some resilience.
"Our project addressed the issue of place and space exposing the intervention that the council, professions and developers have made. It also documents the deterioration that has occurred as a result of the council's lack of intervention when it was needed."