BD Podcast: Ben Derbyshire on housing and architectural ethics and an interview with James Wines
Ben Derbyshire, MD of HTA, joins the show to talk about what Kevin McCloud's HAB scheme means for the wider industry, and why RIBA should be taking a lead on architectural ethics.

Up for discussion in this week's edition, hosted by editor Amanda Baillieu, was a look at the news that Kevin McCloud's HAB has finally got planning permission for a 42-home scheme in Swindon.
Will the star dust factor lead to the volume house builders taking a greater interest in green building? Or is it just a grand design gone wrong?
Next, as politics enters the Stirling Prize with the £20,000 prize tied up with a donation to Amnesty International, we ask what stance the RIBA should take on ethical issues.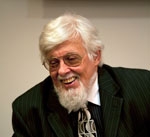 And lastly, we talk to American sculpture and designer James Wines about architecture in the age of austerity.
Listen to this week's edition
SUBSCRIBE TO PODCAST
Subscribing to our podcast is a great idea as this means you will get new episodes as soon as they are available every Friday.