New building links to the existing red brick walls of grade II listed Hazlegrove House
Feilden Fowles has won planning permission for a £1.6 million teaching and learning centre for a Somerset preparatory school.
The new building for Hazlegrove Preparatory School has been conceived as the new "academic hub" of the school, featuring a range of learning spaces, including classrooms, breakout spaces and a large central resource space for both individuals and group classes.
The existing school occupies the grade II listed Hazlegrove House and grounds, located within 80ha of parkland near Yeovil. The new 600sq m building replaces several temporary classroom blocks with a design that aims to enhance the historical site and define a cornerstone to the academic school campus.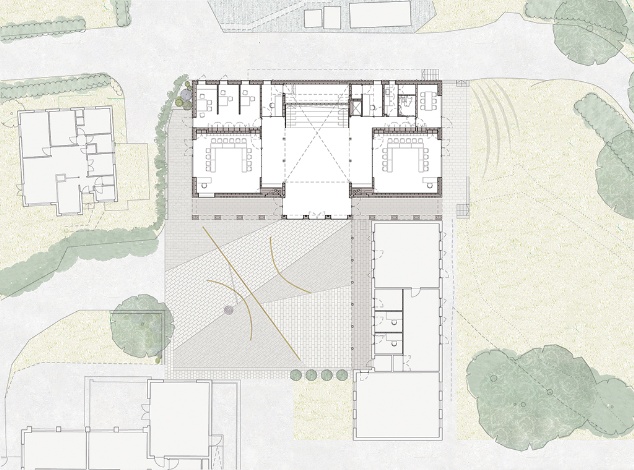 Feilden Fowles consulted educational theorist Bart McGettrick during the design process, leading to the exploration of ecclesiastical and monastic typologies, which are believed to be successful forms of education spaces. This research led to the design of cloister spaces, breakout areas, the courtyard and the roof space over the central resource.
Edmund Fowles, partner at Feilden Fowles, said: "Emphasis has been placed on the articulation of the expressed steel roof structure. This draws upon Victorian precedents, such as railway stations and museums, and their ability to create celebrated spaces that raise the status of activities beneath, but also for more pragmatic reasons, to bring light deep into the centre of the plan through the double-height space."
Materially, the building links to the existing red brick walls that flank Hazlegrove House and features a stone cloister looking on to the courtyard in front.
The building is scheduled for completion in the summer of 2014.