Great innovations: Dickens and architecture
Dickens's approach to architecture was more phlegmatic and utilitarian than many bicentenary tributes suggest
The bicentenaries of the births of Charles Dickens and AWN Pugin both fall this year, but the two men had little in common. Indeed, the novelist actively disliked both the gothic revival and Pugin's associated Catholicism. There are, however, some interesting, if tenuous links between them.
The description in Great Expectations of Mr Wemmick's fictional house in Walworth, a "little wooden cottage… with the queerest gothic windows… and a gothic door, almost too small to get in at" complete with working drawbridge and a top "cut out and painted like a battery mounted with guns", sounds not unlike Pugin's quirky and impractical first house, St Marie's Grange.
And Pugin's biographer, Rosemary Hill, has noted that a model for Mr Pecksniff, the non-building architect in Martin Chuzzlewit who made his money running a drawing school, may well have been Pugin's father Auguste.
All the evidence suggests that Dickens had no concern with architecture as an art, and little aesthetic sense. Unsentimental about the buildings of the past, his interest was in practical matters, in the Victorian ideal of progress and improvement in "this summer-dawn of time".
He supported building the Thames embankment and moving the live cattle market at Smithfield, which resulted in the erection of Horace Jones's cast-iron and brick market buildings there. Dickens was also seriously interested in slum clearance and decent housing for the poor. And it was in this field that he became tangentially involved with architecture.
Dickens encouraged his friend, the philanthropic heiress Angela Burdett-Coutts, in her admirable endeavours. Her first large-scale project was the creation of Columbia Square: blocks of rather grim if sanitary working-class housing on the site of a notorious slum in Bethnal Green. This was soon complemented by Columbia Market, an extraordinary gothic hall, which was, in practical terms, a complete failure.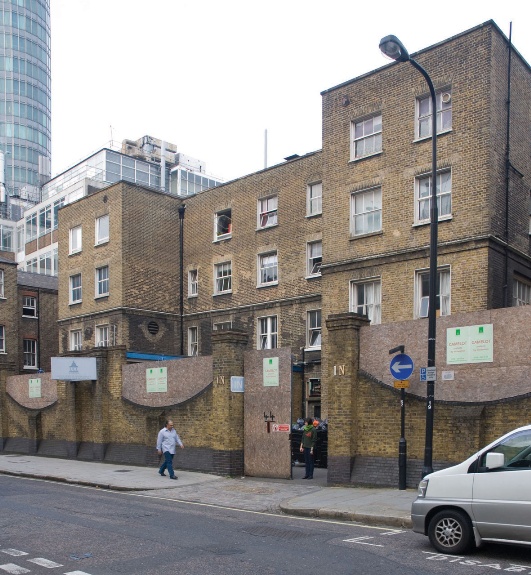 The current admirable exhibition about Dickens and London at the Museum of London illuminates the physical and social context in which Dickens lived and worked. The associated book, Dickens's Victorian London, illustrates that physical context with early photographs. But, fascinating as these are, they rather miss the point since most of Dickens's novels were set in the city of his childhood: in late Georgian or Regency London. This was not, however, the city enhanced by Nash's Metropolitan Improvements (which barely figure) but an older London, with inns and inns of court and labyrinths of squalid housing from earlier centuries.
Architecture in Dickens's novels was the setting for human activity and was usually described in terms of atmosphere and character. St Paul's Cathedral serves only as a symbolic landmark; other buildings, if mentioned, tend to be described as gloomy, ridiculous or oppressive. Most of the London buildings with walk-on parts in the novels, like the Adelphi, or Astley's Amphitheatre or the Southwark coaching inns, have disappeared. The "Iron Bridge" in Little Dorrit, which was the first Southwark Bridge (by the Rennies) has also gone, as have the prisons.
Dickens seems to have had a low opinion of historic buildings that posterity treasures
Dickens seems to have had a low opinion of historic buildings that posterity now treasures. Several of his plots centred on the old inns of court, but he describes Gray's Inn as "one of the most depressing institutions in brick and mortar, known to the children of men" while, in Great Expectations', he brands what is today that enchanting and miraculous survival, Barnard's Inn, as the "dingiest collection of shabby buildings ever squeezed together in a rank corner as a club for Tom-cats…"
As for the plastered and gabled timber-framed old houses whose steady attrition provoked the foundation of the Society for Photographing Relics of Old London and then the Survey of London by later generations, the novelist clearly regarded them as decrepit, unsanitary — and obsolete. Brilliant, imaginative writer as he was, Dickens had as little feeling for the picturesque as he had for formal classical architecture. He was a progressive, and rather philistine, Victorian.
Dickens rather fancied himself as an interior decorator and was always making home improvements. His homes, however, were mostly ordinary 18th century houses, while his final country house, Gad's Hill near Rochester, is unremarkable.
Other buildings associated with Dickens, like the notorious blacking-factory at Hungerford Stairs, have long gone. But a tangible connection with his early life recently emerged in Bloomsbury. The former Strand Union Workhouse in Cleveland Street is a plain brick building of the 1770s, with later additions and alterations. Opponents of its proposed demolition argued that it was of historical significance because of the work there of Dr Joseph Rogers who tried to reform the bureaucratic cruelty of the Poor Law Guardians. Subsequently it emerged that Dickens had lived close by in Cleveland Street and that this workhouse was very likely the inspiration for that in Oliver Twist.
The workhouse has now been listed, partly because of its association with Dickens. But I don't suppose the great novelist could have cared less.
Dickens and London
The exhibition is at the Museum of London, London Wall, London EC2, until June 10.