Five of the most biologically advanced buildings in the world*
A round-up of innovative buildings by architects pushing the boundaries in biological design
Architects are starting to push their sustainability credentials beyond photovoltaic panels and sedum roofs. Plants, micro-organisms and algae are being used not just for aesthetic reasons, but to offer environmental and thermal advantages in technological materials and new types of construction.
Arup has just completed a building in Hamburg using algae to create the world's first bio-adaptive facade, while Stefano Boeri Architetti are constructing the world's first vertical forest in Milan. We also hear from Make's Sean Affleck who is experimenting with algae tubes and looking at making a type of edible jam with the by-product.
BIQ House, Hamburg, Germany by Splitterwerk and Arup
Designed by Austrian firm Splitterwerk in conjunction with Arup, the BIQ House for the International Building Exhibition (IBA) in Hamburg features the world's first bio-adaptive facade.
Micro-algae sourced from the nearby River Elbe has been used in glass panels attached to the south-east and south-west facades to provide both solar shading and generate renewable energy. When the sun shines strongly, the algae grow at a faster rate, which in turn provides more shading for the building.
In addition to providing solar shading, the bio-adaptive facade generates electricity. The exposure of the algae to the sun makes it produce biomass, which can be harvested and converted into biofuel. The bio-reactors are being fabricated by Colt, based on technology developed by Strategic Science Consult of Germany.
Jan Wurm, Europe Research Leader at Arup said: "As well as generating renewable energy and providing shading to keep the inside of the building cooler on sunny days, this system also creates an interesting appearance that many architects and building owners will like. It is a valuable method for generating renewable energy, while providing effective solar shading which itself keeps cooling loads down."
Biological Concrete by Structural Technology Group, Universitat Politecnica de Catalunya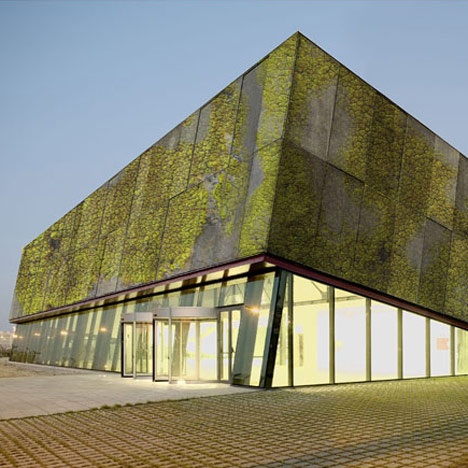 A group of researchers at Catalunya University have developed a biological concrete for constructing 'living' facades with microalagae, fungi, lichens and mosses. The material, which has been designed for the facades of buildings in Mediterranean climates, acts as a natural biological support for these micro-organisms.
The team, led by Antonio Aguado, is now investigating the best way to promote the accelerated growth of these types of organisms on concrete so that a facade can build up an attractive appearance in less than a year, and keep evolving over time.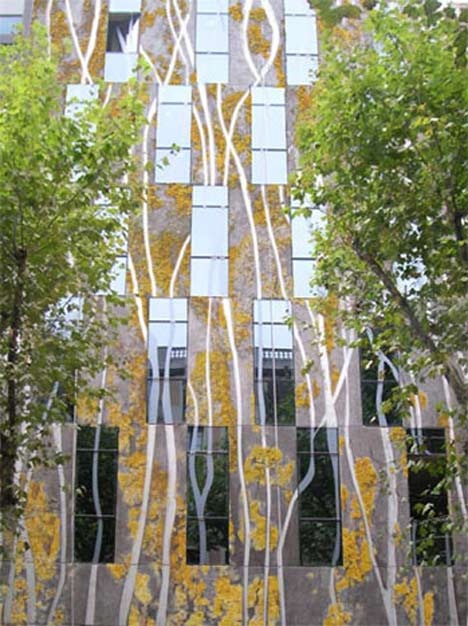 The concrete panels consist of three layers: the first is a waterproof layer, the second is a structural layer, and the final layer is the biological layer, which allows water to accumulate inside it and thus fungi and moss to grow. From an environmental point of view, the new concrete absorbs and therefore reduces atmospheric carbon dioxide. It captures solar radiation, making it possible to regulate the interior temperature of a building. The concrete has also been designed to decorate the facade of buildings to form 'a biological covering or a living painting'.
Bosco Verticale, Milan by Stefano Boeri Architetti
The world's first vertical forest is well under way on the edge of the Isola neighbourhood in Milan, Italy. Bosco Verticale comprises two residential towers, rising to 76 and 110 metres, and covered in over 900 trees, shrubs and floral plants.
The vegetation on each tower equals that of 10,000 sq m of forest on flat land, and provides single family dwellings equalling nearly 50,000 sq m.
The Bosco Verticale system creates a unique microclimate and produces energy for the building, as well as protecting the interior spaces from direct sunlight.
Plant irrigation will be produced by filtering and reusing grey water from the building.
The project is due to finish in late 2013.
Pasona Urban Farm, Tokyo by Kono Designs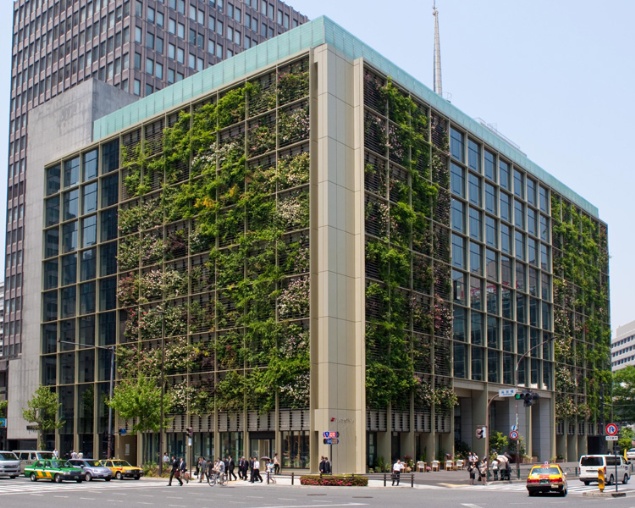 New-York based Kono Designs created this urban farm in downtown Tokyo in 2010. The nine storey corporate office building for Japanese recruitment company Pasona Group features a double-skinned green facade and 43,000 sq ft of urban farming facilities for 200 species of fruits, vegetables and rice that are prepared and served in the cafeterias of the building.
The urban farm also features offices, an auditorium and rooftop garden.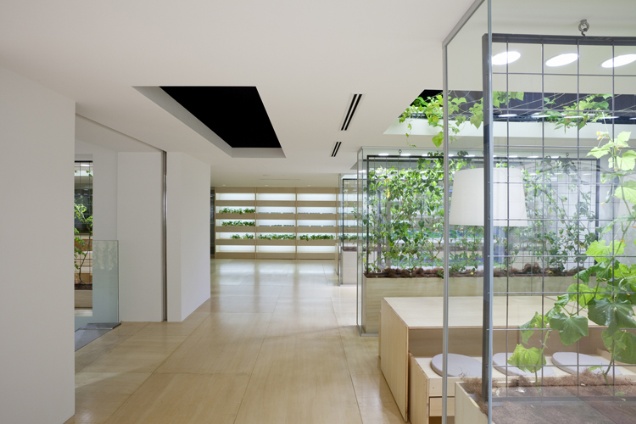 Using both hydroponic and soil based farming, crops and office workers share a common space. For example, tomato vines are suspended above conference tables, lemon and passion fruit trees are used as partitions for meetings spaces, salad leaves are grown inside seminar rooms and bean sprouts are grown under benches.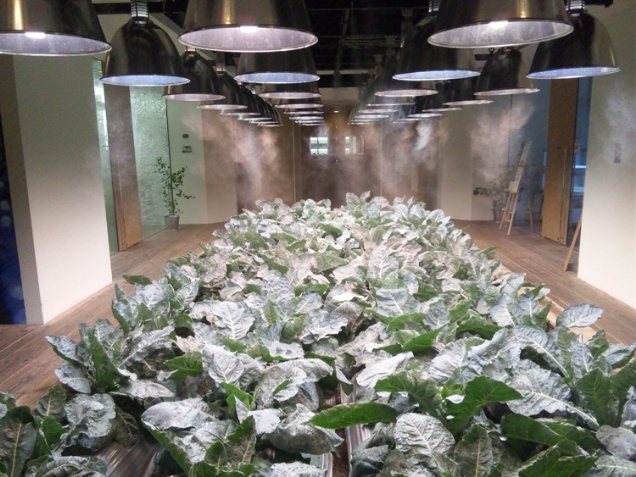 The main lobby also features a rice paddy and a broccoli field, and seasonal flowers and orange trees are planted on the balconies between the double skinned facade.
The crops are equipped with fluorescent and LED lamps and an automatic irrigation system. An intelligent climate control system monitors humidity and temperature to balance human comfort during office hours and optimise crop growth at night.
Algae, Make Architects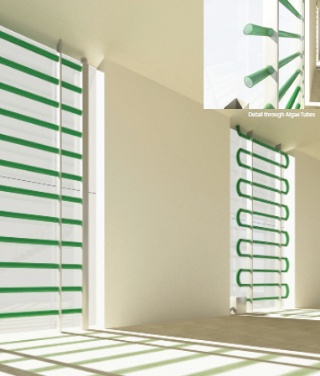 Make has been looking into using algae in buildings for a couple of years now. The practice initially started looking at green walls but recognised the advantageous qualities of algae in releasing oxygen, reducing overheating in buildings and growing at super speed.
Sean Affleck of Make told BD: "It's the idea that buildings need to do more than protect people from the rain and keep them warm, they can do something more intriguing.
"Algae is feeding the ocean with iron, it releases oxygen and is super fast in growing. We thought: wow, wouldn't it be interesting to use in buildings? Maybe these plants can do more".
Affleck described a project in Italy where algae is being turned into Spirulina Jam, a product that can be used in the same way as pesto, and a project in Mumbai, India, where a cosmetics company is using algae in beauty spas. "It's a fresh idea - you can grow algae on a building and turn it into food," Affleck said.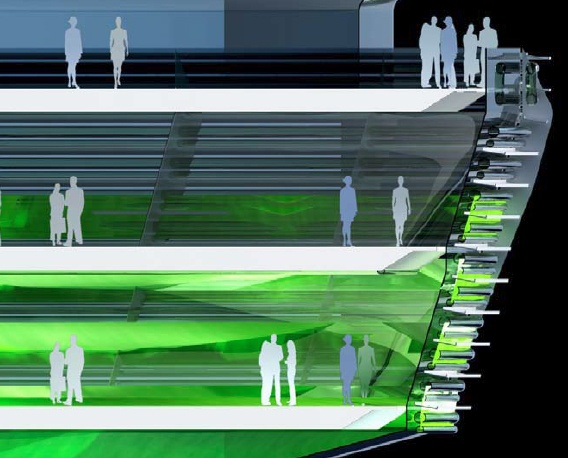 Source: Make Architects
Algae is already being used in America at the Red Hawk power plant in Arizona where noxious gases created during production are pumped through tubes of algae. The algae takes out the gases and releases oxygen. The residual algae can then be used as a by-product for cattle feed or to create biodiesel.
Although Make hasn't used algae on any of its buildings yet, a restaurant project is in the pipeline which would integrate an algae bioreacter 'fence'. The Algae Fence, developed with engineers Battle McCarthy, would be mounted on the side of a building to receive direct sunlight and provide solar shading, thermal heat transfer, acoustic absorption and the production of bio-oil and Spirulina Jam. The system is photobioreactive, which means that it grows under the sun with minimal maintenance. They are currently finding a location in London and Battle McCarthy will be launching a demonstration in July.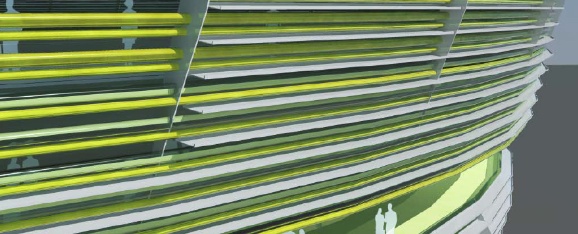 Source: Make Architects
Postscript:
*Four buildings and a building system