David Kohn opened his presentation to the Young Architect of the Year jury with reference to Isaiah Berlin's essay The Hedgehog and the Fox.

For Berlin, all writers belonged to one of two types: the hedgehog, who sees the world through the lens of a fixed idea, and the fox, who draws on a range of experience, always adapting himself to the conditions at hand.
Kohn argued that this categorisation was of equal relevance to architects and that he saw his own practice as fundamentally fox-like.
Having established David Kohn Architects as recently as 2005, his list of built works remains modest: a gallery in Fitzrovia, a temporary restaurant at the Royal Academy and a soon-to-be-completed house in Norfolk. Already, however, an impressive commitment to artistic adaptability is in evidence.
This is communicated particularly vividly by Flash, the restaurant Kohn designed for Pablo Flack and David Waddington of Bistrotheque. Incorporating the contributions of artists, a graphic designer and the fashion designer, Giles Deacon, this was very much a collaborative project, conceived and constructed in just three days for a budget that precluded the use of a conventional contractor.
Kohn's response to these challenges was to enclose the restaurant in a wall of art packing crates — a rudimentary but imposing structure to which he invited his collaborators to add.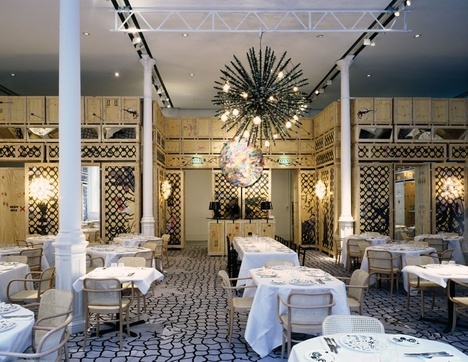 The jury was particularly impressed by the unusually close relationship between Kohn's practice and his work as a diploma teacher at London Metropolitan University.
His approach has been to use teaching as a means of researching a new subject each year with the help of advisers who can offer a particular expertise.
The commission from Bistrotheque emerged after Kohn invited Flack and Waddington to advise on a unit devoted to restaurant design, while last year's research into theatres led to the practice being shortlisted in the competition for the new Arcola Theatre in Dalston.
Special commendation
For the first time, this year's jury decided to honour another of the shortlisted firms, Office of Subversive Architecture/ KHBT, with a commendation.
Jury chair Sarah Ichioka said: "We were impressed by KHBT's art-based projects and thought that, with their background in both joinery and large-scale international practice, they showed the potential to inject magic and play into mainstream architecture."
Runners-up
Duggan Morris Architects
Glowacka Rennie Architects
Prewett Bizley Architects