Wellcome Collection show unlocks the history of the insane asylum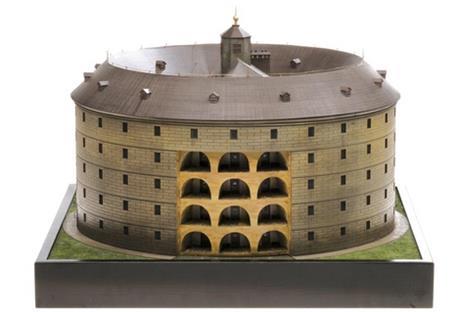 Madness and modernity: mental illness and the visual arts in vienna 1900
Wellcome Collection, 183 Euston Road, London NW1.


Until June 28, www.wellcomecollection.org
3/5

Changing attitudes led to the transformation of mental health treatment environments in Vienna at the end of the 19th century
A model of the Narrenturm (Tower of Fools), built in Vienna in 1784 along the lines of a prison for "dangerous lunatics" is displayed alongside David Bickerstaff's 2009 video installation recording the passage of time within its forbidding walls.
By the late 19th century, critics of such institutions gathered voice, revealing the harshness and injustice of a system built on secrecy. At the same time, a rapidly increasing urban population brought about a huge requirement for mental health treatment, for which large asylums seemed the solution.
The corollary of cultural sophistication appeared to be an increase in mental unease, the result of overworked brains, for which the prescribed cure was rest and physical exercise in sanatoriums outside the city. An exhibition in Vienna in 1898 was held to demonstrate reformed views towards mental health treatment, and to change public perception of asylums.
The Wellcome exhibition concentrates on two examples: Otto Wagner's Am Steinhof, and Josef Hoffmann's Purkersdorf Sanatorium. Am Steinhof housed an astonishing 2,500 patients, and was designed as a series of villas in a park on the edge of Vienna. Sixty buildings in all provided a range of residential buildings, with men and women housed separately and according to types and severity of conditions, around the communal buildings — kitchens, theatre, church. The buildings have a neo-classical formality softened to the rear by loggia spaces providing deep balconies to sit on and overlook the extensive gardens around the buildings.
The spatial clarity inherent in Am Steinhof, from the disposition of the buildings around the gardens to the wide corridors and the shining white clarity of the church interior, demonstrate a new-found physical freedom for the patients at the same time as providing the means by which order was maintained. Patients were free to wander in spaces that were easily overlooked; even the church pews were specially short so that patients could be quickly reached if causing a disturbance: lock and key was replaced by clear sight lines in a way that still underpins the design of psychiatric space today.
Lock and key was replaced by clear sight lines in a way that still underpins design of psychiatric space today
Meanwhile in the city, Freud was developing an antithetical approach to psychiatric treatment with the exploration of a patient's inner impulses and dreams; Freud saw his psychoanalytical role as drawing "his inference from the fragments of memories". Treatment was conducted with the patient lying on Freud's couch and surrounded by his memory theatre of ancient artefacts, his "old and dirty gods", figures of gods and mythic creatures representing a range of human experience and fantasy resonant with our inner life.
The impact of the complexities of the inner life on the human body was explored by artists, both under the arm of scientific research (the exhibition includes two sensitive drawings by Erwin Dom Osen of psychiatric patients, some of Franz-Xaver Messerschmidt's comically exaggerated character heads, as well as copies of the Parisian neurologist Charcot's photographic "vocabulary of disease"), and also by artists intent on a representation of inner turmoils. Egon Schiele's self-portraits show a fascination with the limits of human experience, pushing and pulling his thin body. Max Oppenheimer and Oskar Koko-schka vied to be inventors of the "psychological portrait", producing portraits that upturned conservative conventions to the consternation of their patrons, revealing inner disquietude through nervous hands and staring eyes.
The final room of the exhibition looks at the works of two asylum inmates at this time, operating within a vacuum of artistic recognition and reward, and refreshingly unselfconscious as a result. The exhibition contains just one work by the patient Frau St, an elegant, meticulous collage of delicate drawings on newspaper scraps pasted together. In contrast, the steady catalogue of paintings by Josef Karl Radler, a former ceramic painter, give a unique view of asylum life in a series of annotated paintings which describe with quiet detail and naïf charm his surroundings and fellow inmates.
With prescience he comments on the status of the inmates ("Half or Wholly Imbecilic people are what I see here. But all on all good sorts, they stand around me as I paint… I myself see this home as a church — these poor souls as living saints!!!"), and the value of his work ("Price 300 crowns — true and useful art should, must, be worth it!"): a life wholly apart.
Biba Dow is a partner with Dow Jones Architects.