Top 50 Films for Architects: Man with a Movie Camera
4. Man with a Movie Camera
Director: Dziga Vertov,
1929
Man with a Movie Camera brims over with fleeting impressions and closely observed human figures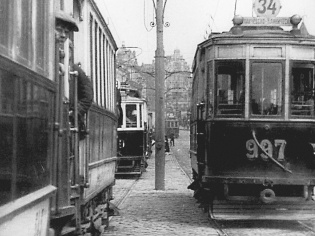 Already in the introductory titles, Dziga Vertov is making contentious assertions about his film — it's without actors, without a scenario, without sets, without intertitles and, by implication, without an author. All of these claims are both true and not true.
Man with a Movie Camera brims over with closely observed human figures. It's also carefully constructed; maybe the script was never written out and is substantially improvised at the editing table, which appears so memorably in the film, but there have been plenty of books devoted to analysing the layered intricacy of its sequences.
How to explain the miracle of this pinnacle of early Soviet filmmaking that retains its freshness undimmed after 80 years' passage? No one since has captured the dynamism of the modern city so ecstatically.
Part of the answer may be that Moscow, where it was mostly shot, is not so modern after all. Its peasant traces continually invigorate the action. In one of the boldest sequences the camera crew in a car shadow a couple of young women in a horse-drawn cart, a bit of life in motion. What made them decide to track an outmoded form of transport, for the film is full of more up-to-date machinery, especially trams, which slice through urban confusion, sliding past each other deftly?
That hints at the film's other secret, a wide-eyed receptiveness to material presences of all kinds, especially machines and movement generally, but also such fleeting impressions as an old market woman inspecting eggs by holding them up to her eye one by one.
Top 50 Films for Architects