Terunobu Fujimori: architect
Edited by Hannes Rössler, Michael Buhrs
Hatje Cantz, PB, 240pp, £32.50
Fujimori's whimsical projects reconnect with the basics
It's hard not to have a soft spot for the menagerie of buildings Terunobu Fujimori has raised. They appear zoomorphic or transported from fairytale. Given the peculiarities of Japanese culture these dinky buildings belong to, perhaps what is most difficult is taking them seriously.
A respected architectural historian, Fujimori only turned his hand to practising architecture aged 42, owing to circumstance more than ambition. Not that his work mimics the past. As his Beetle's House at the 1:1 Architects Build Small Spaces exhibition at the V&A in 2010 showed, there is something arrestingly strange but still familiar about his architecture.
Terunobu Fujimori: Architect is the first major publication on his work to appear outside of Japan,  and was published to coincide with an exhibition at the Museum Villa Stuck in Munich this summer. It includes examples of built work, visionary projects, and essays covering key themes. Notable is Fujimori's own essay pondering the origins of architecture — right back to Neolithic standing stones: "the first international style".
Throughout the book his dry wit rewards a close reading. The large-format, handsome production and excellent photographs by Akihisa Masuda make it a real pleasure to flip through. However, while the teahouses and small homes can be comprehended from a handful of photographs, it's a shame that the more complex projects suffer from too few and no real architectural drawings (if such drawings exist) apart from Fujimori's own sketches.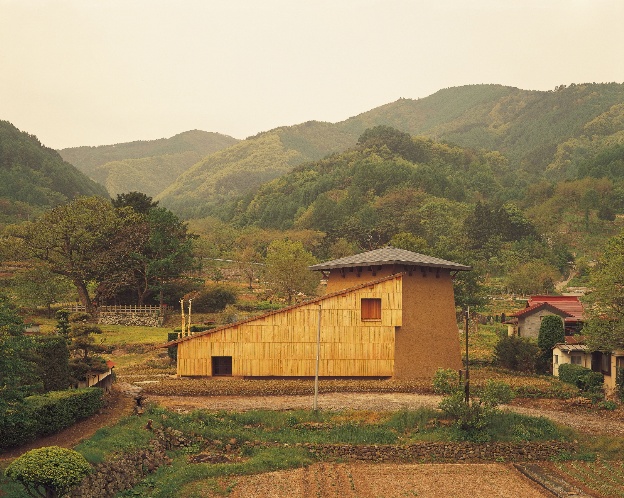 Source: Akihisa Masuda
Fujimori isn't an architect so much as a craftsman. He has rediscovered building traditions that have been lost, either finding craftspeople who still possess the knowledge or experimenting himself to get the desired result. Over time these techniques have been perfected and employed to startling effect in his architecture. He doesn't draw out details because he's often the one instructing on site. It's a long way from the lifeless academic games and faux-traditional constructions of architects traumatised by modernism.
Fujimori's work engages the senses a great deal more than the intellect
Fujimori introduces each job, often explaining how material was used and — rare for an architect — appraises it a success or failure (and there are failures). The book makes it clear that people are at the heart of his buildings. Much of the work has been for, and crafted by, his friends. And when he works abroad, as in Munich this year, or the V&A in 2010, students and amateurs help build the structures under his guidance.
Tree trunks, blown glass, split timber, crinkled copper sheet and earth walls recur, all bearing the mark of the hand — evidence of how much he relishes the art of building, and the importance he places upon it.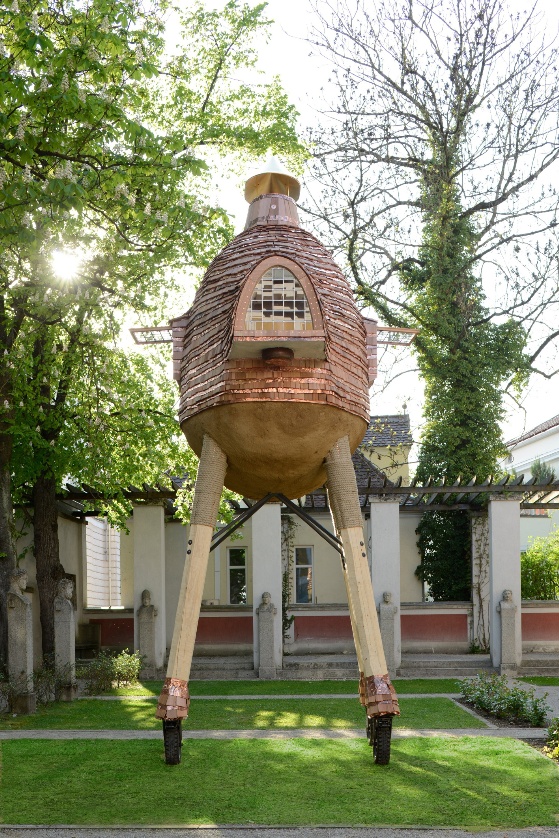 Source: Akihisa Masuda
At the back is an important section on Rojo, the street observation society of which Fujimori is a key member. From 1986 this collective of artists, architects and writers has keenly observed the ordinariness of Tokyo, offering up photographs in humorous deadpan. This avant-garde art practice bears striking resemblance to his architecture in its sense of play and celebration of chance.
Somewhere between the reconstructions of experimental archaeology and the bizarre follies of Bosch or Bruegel (which inspired his Walking Café), Fujimori's work engages the imagination and senses a great deal more than the intellect. Perhaps it's improbable that someone operating at the outer limits of architectural practice can point the way to the primordial architectural experiences at its core.
This century is already imposing unprecedented challenges that architects must meet. We should take Fujimori's buildings seriously because they remind us of the importance of what could be lost if an ever-increasing technological reliance left us unable to create beautiful buildings by hand.