Tanks under the lawn
Herzog & de Meuron's Tate Modern Tanks open
Following fast on its contribution to the Serpentine Pavilion programme, the conversion of the monumental subterranean oil tanks at Tate Modern is Herzog and de Meuron's second London project to open this summer and somewhat surprisingly, given the considerable disparities in scale and context, it feels closely connected to its predecessor.
This is, after all, another cave-like space dominated by an emphatically circular geometry and a sense of having been formed less through an act of design than through a quasi-archaeological procedure.
However, where the pavilion fails to convince as much more than a stage set, The Tanks is the real deal — a vast and mysterious objet trouvé that no architect, thrown back on the resources of their own imagination, would be capable of dreaming up. 
Of course, what we are presented with today is very far from an "as found" condition. The Tanks are the lowest level of Tate Modern's extension, work on which is not set to complete until 2016 and, particularly in the foyer, the raking structure of the distorted pyramid being constructed above is much in evidence.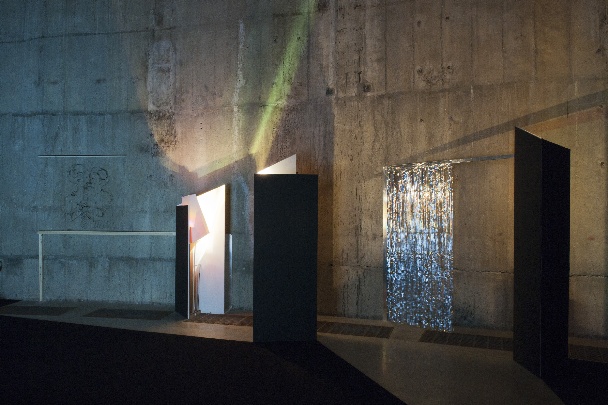 Source: Lucy Dawkins/TATE
The four galleries that the project creates are being devoted to performance art and dance as well as video and sound based work – media whose ephemerality stands in marked contrast to the rugged insitu shell in which they are to be presented. Nonetheless, the subterranean nature of the spaces hasn't been dramatised overly.  While there were opportunities to introduce natural light they have been eschewed, resulting in a suite of interiors that, while cavernous, present  the determined neutrality of a television studio.
What kind of art-making they might invite remains to be seen. After experiencing 12 years of commissions in the Turbine Hall, it is clear that there is something about the cathedral-like character of that space that throws artists into a distinctly apocalyptic frame of mind. 
One suspects that the Tanks may ultimately prove open to a rather wider range of interpretation.