Sensitive touch on design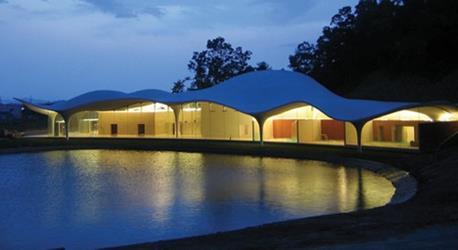 Mutsuro Sasaki was fascinating but frightening, says Kester Rattenbury
Mutsuro Sasaki Morphogenesis of Flux Structure
2/5
Architectural Association, London.
Mutsuro Sasaki is to Japanese architecture what Cecil Balmond is to Anglo-Dutch: fundamental. He engineered the Sendai Mediatheque with Toyo Ito. He has worked with Arata Isosaki on various projects — some pretty terrifying. And in doing so he has invented — and is still inventing — a computational method of evolving and testing "shape design" with architects so that you get the most efficient structural formation of the architect's form.
Scarily full of algorithms, his lecture at the AA was both revealing and worrying. English is not his strength, and he read diligently from a script, showing pictures and equations. His techniques are the sensitivity analysis method and the extended evolutionary structure optimisation method: "These involve generating rational structural shapes within a computer by using the principles of evolution and self-organisation of living structures from an engineering standpoint," he said.
In layman's terms this means the architect comes up with a shape, number crunches it and comes up with a better, more beautiful, more elegant, more economical shape, and tells you how to make it and how thick it ought to be.
Sendai Mediatheque, 1995-2000, is his most famous project, developed from Toyo Ito's sketch — "an amorphous image, as if free from gravity" — and realised through Sasaki's sandwich plates and steel tubes "after many struggles". The project was Sasaki's turning point, the basis of his "flux" design and shape structure.
It became like a piece of grilled bacon — the model itself looked astonished
His dry run was in 1998, with Arata Isozaki's National Theatre for Beijing — "a long period of trial and error" examining stress and deformation of the shell roof. Sasaki wondered if computation might be used to give a strict structural analysis, and sensitivity analysis was born, "evaluating how much a transformation at a node influences the strain energy's transition in the whole structure". So if you change one bit, you see what happens to the whole thing.
By 2002, he "urgently wanted to try" his evolving technique on a real structure. Arata Isozaki's Kitagara Community Centre allowed him to "provide a rational shape that reflects the architect's intentions." On Toyo Ito's Island City Central Park Gringin — three continuous pre-cast shells changing from inside to outside, covering 190m by 50m and 400mm thick — they evolved and tested through a computer model, reducing the shell to 150mm. "It became like a piece of grilled bacon — the model itself looked astonished. It seemed to be telling us that the structure itself was too thin," he said. In the end, the 400mm one was built.
The problem, he said, is realising this on site. The only economic material so far is reinforced concrete, and the most complex thing is how to make the formwork — although, when they designed the weirdly part-Miesian crematorium in Kakamigahara, they sent the computer model off to a specialist formwork company, who did it perfectly.
The last projects he showed — the Isosaki New Station in Florence and the very similar conference Centre in Qatar — were truly monstrous. Both have a great big, long, elegant roof extruded into a Banyan-esque jungle underneath: like a sort of nightmare rhinoplasty of Banyan and Mies, which (in Florence) has some connection with the birth of futurism, but in Qatar looks like a huge aorta. If this is the future, I'm scared.
Yet this was super-informative and surprisingly good fun. Has he ever been given a task he couldn't manage? It is not a question of if he can do it, but if he wants to. How do his two great mentors Mies and Gaudi come together? The way perfect opposites do. How should architects interact with engineers? Fight them: "If you bring a boring idea, we will refuse". Hmm. I suspect both his serious-sounding book and exhibition (which use the same material and information but less of each) will be less fun. That won't deter enthusiasts, but the rest of us have been warned.
Postscript:
Mutsuro Sasaki's exhibition is at the AA, 36 Bedford Square, London, until March 22. Tel 020 7887 4000