2012 in review: Bilbao or Constance?
Alison Brooks on her two favourite buildings of the year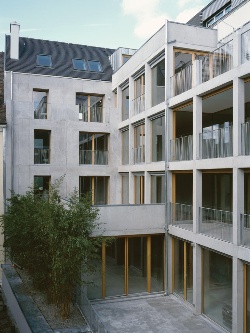 I am torn between two great buildings I saw this year: the Bilbao Arena by IDOM and the H27D building in Constance, by Kraus Schönberg Architects.
The Bilbao Arena achieves the near-impossible feat of making you feel increasingly happy the longer you spend in it — a story of spatial invention, wit and economy of means.
The H27D is an entirely different project, a compact mixed-use urban block with total architectural consistency. Aerated insitu concrete is cladding, structure, insulation and internal finish.
It is an extraordinary achievement, technically and architecturally. It feels handmade, crafted and timeless. This building shows the potential of architecture to enrich urban existence at its most fundamental level.