Opening the door to interior design
An new anthology attempts to set out a theoretical foundation for interior design
Toward a New Interior: An Anthology of Interior Design Theory
Edited by Lois Weinthal
Princeton Architectural Press, New York, 2011, £30, 624pp
Toward a New Interior: An Anthology of Interior Design Theory sets out to establish a theoretical foundation for approaches and practices of interior design and for its editor that theory is necessarily centred on the body. Lois Weinthal's idea, which is manifest in the structure of the book, places an individual's body at the centre of a series of approximately concentric circles that overlap and move outward, suggesting its intimate contact, its interior, and its tentative connection with the world without.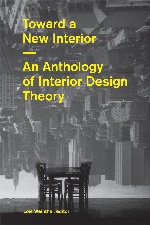 The book's chapters correspond to this pattern: each consists of essays pertaining to an ever-wider circle of the body's attentions. Weinthal constantly frames and reframes each contribution, all of which are drawn from previous publications. Her preface is followed by an introduction, each chapter has its own further introduction, and each essay is given its own preface. These various intercessions do not highlight the contexts in which these essays or expositions were produced; rather, they align the texts with her operating principles, to the point of over-determination.
Toward a New Interior offers a selection rather than a miscellany or compendium of material. It includes critical essays concerning contemporary art, photography, cinema and architectural "art"; descriptions of interior curios; historical texts (by Le Corbusier and Adolf Loos); examples of architecture/art practices, samples of work from some American architectural academies, and exposure to some practices "exterior" to interior design, in contemporary art and animated film.
Is the book what it sets out to be, a foundation for a theory of interior design? In part, it is. Several of the pieces are exemplary, and suggest to adesigner how an interior might be thought of, felt and conceptualised for the purpose of a design. This applies especially to those essays that show the interior and its occupants (or art and its viewers), as produced by intersecting, relational influences — pragmatic, æsthetic, political, social — within culture.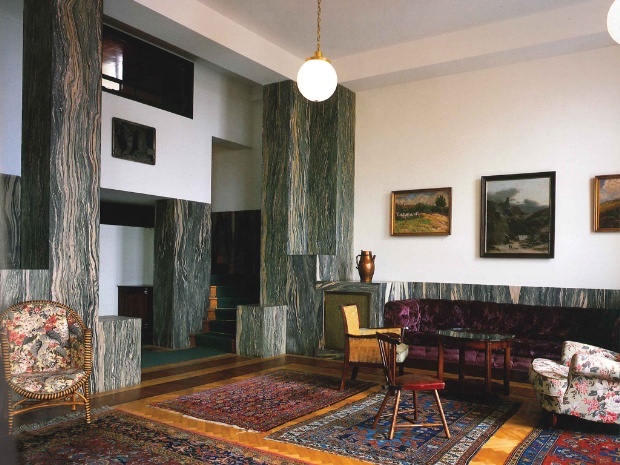 The essays by Robert McAnulty on considerations of the status of the body in culture as embodied in architecture, Robin Evans on drawing and design of rooms from the 18th to 19th centuries, Witold Rybczynski on the domestic interiors of the Dutch Golden Age and Dan Graham on Gordon Matta-Clark stand out in this regard. There are also engaging essays that describe the interior as a machine producing psychological or relational effects (courting the dangers of excessive earnestness or cynicism). Those by Juhani Pallasmaa on the seven senses of architecture, David Batchelor on the modernist fear of colour, Beatriz Colomina on Loos's interiors and Diana Fuss and Joel Sanders on Sigmund Freud's Berggaße office are memorable. Petra Blaisse's piece on the interiors of OMA's Casa de Musica is refreshing for its exposition of the making of a project.
There is a lack of feeling for social intercourse and for the public interior as space shared by people
Over the course of the book, however, the clarity of such pieces is obscured by an exaggerated attention to marginalia and sentimentality (not to be confused with memory or nostalgia). That attention spans lost rooms and non-sites, the crevasses of pockets, pleats, and the poché within walls (which suffers here from a very reduced definition), the "skins" that cling to them, and dust. There are too many pieces in this anthology that dwell on material of doubtful use to the interior designer, namely the narrow indulgences of the isolated individual and his/her senses, feelings or neuroses. It is very attractive for an impressionable neophyte. Indeed, the projects proposed as models for a possible, renewed practice of interior design are largely drawn from that broad "academy" of schools of design that includes the Cooper Union, Parsons and Cranbrook. Their abiding passions are well represented here: drawings, registers, machines and automata deployed as means and ends, as tools and representations, as subjects and objects. They are accompanied by obsessions with the devices of modernism, as well as the singularity — the insularity — of the American condition. Language and history as cultural experience are only evident as material to be deconstructed.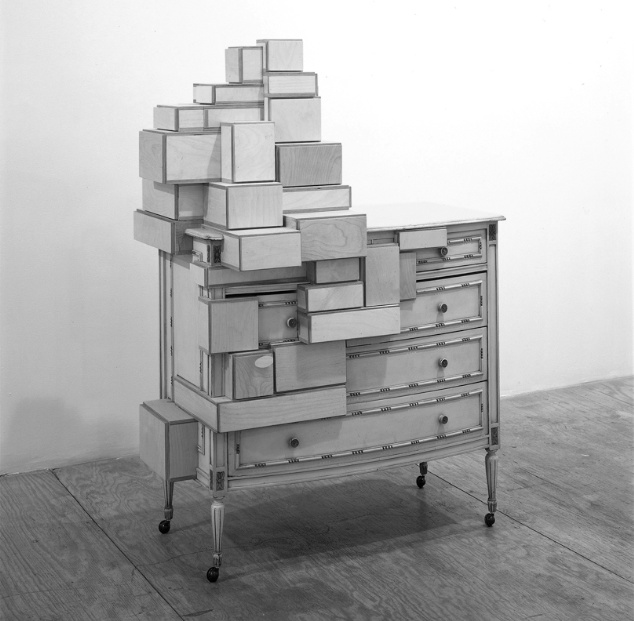 This anthology needs to address a broader audience than the student working toward their final project, or the designer who wants to retreat into obsessive concerns. There is much that this book could contain, well within the areas defined by its editor. Yet, there is a lack of feeling — even in the outermost circles of Weinthal's working diagram which refer to the public sphere and the exterior — for the other, for social intercourse (even in private rooms), and for the public interior as space shared by people, beyond rather instrumental ideas of performance or theatre. Such a sensibility might have stretched this book in further interesting — and necessary — directions.
In this regard, further essays or literature that would illuminate a context for thoughts on the interior and pursue the balance between the private and public individual would have been welcome. One could benefit from essays by Robert Harbison, Jeff Wall, Adolf Loos and Fritz Neumeyer; a different essay by Robin Evans; from the theory and literature of Gottfried Semper, Owen Jones, John Ruskin, Joris-Karl Huysmans, Edith Wharton, Walter Benjamin, Virginia Woolf, Steen Eiler Rasmussen, Hannah Arendt, Gaston Bachelard; the editorial writing of Joseph Holtzman or Matthew Stadler; or descriptions of historical interiors, such as those of Balthasar Neumann, the Zimmerman and Asam brothers and François de Cuvilliés; of William Burges or William Morris; of Eileen Gray, Ludwig Wittgenstein, Lilly Reich, Josef Frank, Carlo Mollino, Hermann Czech, Jacques Garcia… but this would be a different anthology of interior design theory.
Mark Pimlott is assistant professor in architecture/interior at Delft University of Technology. He is also an artist and interior designer.