Loris Gréaud — French and fanciful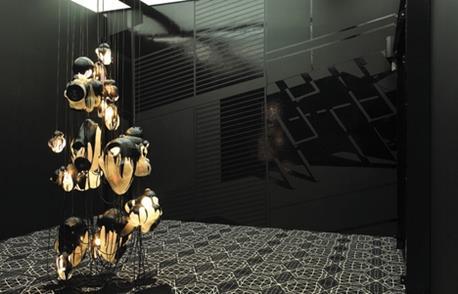 From paintball to Willy Wonka, French artist Loris Gréaud plays hard
Loris Gréaud is the new kid on the international "art and architecture" block. He has just installed his work at the ICA — three black rooms with electric, plastic roller doors opening and closing, a stunningly patterned carpet, and the hanging spores of a sound opera. On the wall are fragments of what appears to be part of a large axonometric of a building. It is a strange poetic assemblage, and a partial assault on the senses.
This belongs to his installation, Cellar Door, which was presented in April at Paris's Palais de Tokyo, when Gréaud was the first artist under 30 to have been given the whole building. His Opera in Almost One Act was performed with a full orchestra on the opening night, opposite a forest of black trees. Nearby, a giant paintball game with "infinite" colour flew through a giant, geodesic Merzbau structure. Sweets with no taste, celadors, were distributed from vending machines, while black champagne bubbled and fizzed. It was a baroque spectacle. And indeed, Gréaud wants to create a "dreaming factory" on the outskirts of Paris.
According to the introduction, Cellar Door "is the story of the Studio, a vast workshop distended in space and time. Even now, machines are whirring, plans are planning, and electrons spinning, all according to a most fantastic choreography." Are these the spurious operations of a French post-modern agenda or a major, multidisciplinary operation — a way to dream of producing an artist's studio?
Gréaud's original focus was on music, which he studied at college in Paris, but his interest in John Cage sent him spiralling into an art world of narrative text. He now practises as DGZ Research with two architects, Dolger and Ziakovic. He often extends collaboration to work with scientists, designers, and composers on projects such as huge, inflatable witch's hat that floated across Paris. He has also worked with nano-scientists to create sculptures invisible to the human eye, not forgetting his palindrome project, Engage le jeu que je le gagne (Start the game so I can win). There is an eclectic mix of ideas in his work, stolen and sampled, which reaches its present climax in Cellar Door. This is a coupling of words reputed to be JRR Tolkein's phonetic favourite, and Gréaud also quotes Chico Marx: "We keep the roof in the basement so when the rain comes, the chimney don't get wet."
Gréaud's original focus was music, but his interest
in John Cage sent him spiralling into the art world
Gréaud is feted as the next Damien Hirst or Andy Warhol but there is no pared back, iconic object here, more an excess of continental intellectual games: Gréaud appears to be a signed-up member of Georges Perec's "Oulipou" world. DGZ's axonometric drawing of the Studio, the palace of production, realises the dream through the architect's conventional drawing: a black ink on black paper version is available — black on black. The axonometric is intriguing; it appears as an industrial art piece, a New York Five drawing meets the constructivists, creating a Cedric Price Think Tank. Indeed, among the baroque dreaming, there is a playful, post-utopian sense of reality.
The ICA gives just a hint of the future — Thursday nights for black champagne, word play, sound sculpture, taste experiments, and sixties designs. Watch this space: Loris Gréaud is in the building, he is in production, and architecture is to be produced.
Original print headline - French and fanciful
Exhibition
Loris Gréaud
ICA, London. www.ica.org.uk
Until June 22
Rating: 4/5