Lisbon architecture triennale
Various locations, Lisbon
Until December 15
3/5 Stars
Close, Closer's mix of spectacle and social radicalism does not entirely convince
Although now in its third iteration, the Lisbon Architecture Triennale still has the feeling of an institution in search of an identity. Having spent three days at the opening of the latest instalment – the cryptically titled Close, Closer – I am afraid I am still at a loss as to what the city's ambitions are in throwing such a jamboree and who the intended audience might be.
Perhaps the only thing that is clear is what the triennale is not: namely a version of the altogether more established biennale in Venice. That may very well be a good thing but successive triennale curators have never had much choice in the matter. Lisbon lacks Venice's physical infrastructure – where the biennale plays out largely on one site, the triennale is necessarily distributed across many — but, more significantly, it has never enjoyed anything like Venice's level of funding.
Given what has happened to the Portuguese economy over the past five years, it is remarkable that any kind of programme has been put on at all. One only needs to encounter the current condition of Lisbon's Paulo Mendes da Rocha-designed Coach Museum to understand the scale of the challenges. While work on this €31 million project was all but completed in 2010, the fenced-off site has seen no activity in the interim and no opening date is currently proposed.
This year's chief curator, the UK's Beatrice Gallilee, has responded to these conditions with a potentially exciting agenda. In a country where precious little is getting built, she has conceived a show whose scope lies entirely outwith traditional forms of architectural practice. Throwing light on a strong tendency within the emerging generation of European architects – as exemplified in the UK by firms like Assemble, We Made That and Studio Weave – Close, Closer is notably free of contributions from established names. The work being presented is almost invariably of a small scale – if it has a physical manifestation at all – and prized as much for its success in mobilising communities, fostering economies and reframing the public perception of sites as it is for any aesthetic outcome.
Practical social agenda
It is arguably premature to offer an assessment of the programme as many of the projects will only come to fruition over the course of the triennale's three-month run. If you are planning to go I would certainly recommend holding off until the final weeks, when documentation of the workshops, debates and performances that are set to take place has accumulated. To visit today is to encounter rather too many empty stages, unchalked blackboards and footage-free video monitors.
What one can see in a substantially fixed form are the two headline exhibitions, the Liam Young-curated Future Perfect and The Real and Other Fictions, conceived by Mariana Pestana. Neither could be accused of populism – demanding as they do of the visitor an enormous amount of reading of arcane texts – and curiously neither does much to bring into focus the practical social agenda underpinning many of the satellite projects. I found both pretty uniformly unrewarding.
Occupying a former power station, Young's show is conceived as an exploration of a city of the future, a fantastical and distinctly dystopian proposition modelled on a post-oil crisis Dubai. This vision is presented first by a large model and then by five commissioned installations – each relating to a different urban quarter – which combine to form a 1:1 environment in a blacked-out second room. Among these we find an interactive music and laser experience, clothes generated by dunking a near-naked dancer into molten wax, and flailing robotic snakes which will 3D-print a structure of undetermined form over the course of the exhibition. Young's hoped-for tone is portentous, exotic and titillating but the quaint reality is rather closer to that of an am-dram production of Blade Runner.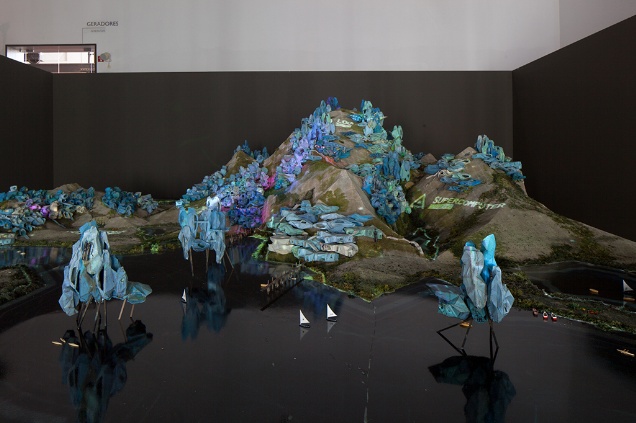 Source: Luke Hayes
Pestana's show also has the compensatory attraction of being staged in a beautiful building, the 17th century Palácio Pombal. As with Young, her concerns focus on storytelling, fictionalising history much as he fictionalises the future. Each room has been taken as the site of an artist's installation with the responses drawing on different episodes in the building's chequered life. Performance represents a strong component and the pervading tone will be familiar to anyone who has experienced the kind of immersive theatre pioneered by companies like Punchdrunk. Here, however, there is considerably less animation on offer. Live readings, debates and dinners are planned but, returning just a day after the opening, the place was all but empty and whatever spell it hoped to cast hard to glean.
Even if you are more sympathetic than I am to Gallilee's line that Young and Pestana's activities constitute a form of architectural practice, it is hard to see how such obtuse and expensive exhibitions contribute to Close, Closer's mission. I certainly would have preferred to see the money directed to the altogether more enticing projects that it has funded through "crisis buster" grants. Some of these are publications or websites: a catalogue of the city's empty buildings, a guide to its restaurants under imminent threat of closure and a newspaper, to which local architects have contributed, that will be posted on the streets of Lisbon throughout the triennale. Others are, at least in part, building projects.
Simply but beautifully
The most exciting that I encountered was Casa do Vapor, a temporary community centre built by the collective Exyzt, on the beach at Cova do Vapor, a village to the south of the city centre. First settled in the 1940s, Cova do Vapor comprises around 100 self-built houses, none of which were constructed with a licence, on land owned by the Port of Lisbon. They are currently under threat of replacement by a contentious expansion of the port's container shipping operation.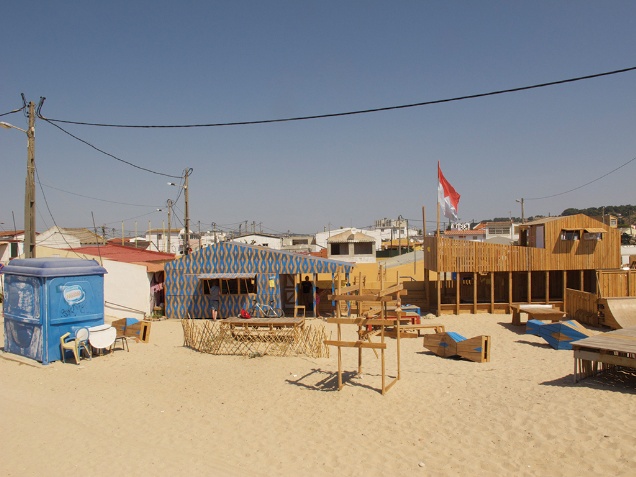 Source: Ellis Woodman
Built simply but beautifully from reclaimed materials, Exyzt's project comprises a kitchen, library, bike hire facility and meeting space. By day, it serves as a youth centre and by night as a forum for community events. The process of building the structures served as a means of disseminating skills which local residents have been able to apply to their own homes while the provision of a space where the community can frame their response to the threat of redevelopment was always another motivating ambition.
On the day I visited, volunteers were preparing to conduct a reading of Ernest Hemingway's The Old Man and the Sea for a group of illiterate older residents while a screening of Madagascar 3 was being planned for younger locals.
Maintaining a closer fit to the life of its community than architecture ordinarily achieves, the project illuminates the ambitions embodied in triennale's title perfectly. Forget exhibitions, it is through schemes like this that the triennale might yet secure a long-term role for itself that is both popular and radical.