Tomas Klassnik 'I'd like to duel with Borromini'
The founder of the London-based Klassnik Corporation on 17th century Rome, space stations and predictability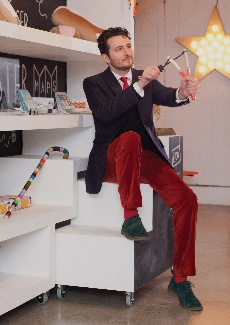 Source: Christopher (Kit) Oates
What got you started?
I'm not sure I have started yet, but my childhood was infused with the aroma of grey industrial floor paint on trips to see installation art, which made me aware of how choreographed space could generate meaning and delight.
Who was your most inspiring tutor?
Gerrard O'Carroll at the RCA was particularly passionate and demanding. His posthumous book Darkitecture has just been released — well worth a look.
Which architect have you learnt the most from?
Working at Fat taught me the seriousness of being funny.
What is your best project?
I'm currently renovating Peter Moro's modernist house in Blackheath. Uncovering clues to his thought processes as we dissect the building's fabric is challenging us to create something with the same level of polemical completeness.
Which house would you most like to live in?
The Soane museum would be great. I think I would enjoy concealing my plasma ball, catapult and other obscure knick-knacks among his antiques.
You can work in whichever city you want at any point in history — where and when would you choose?
17th century Rome. It's a fantastic city and I would enjoy duelling physically and professionally with Borromini, though I expect he would win.
What would be your dream commission?
A baroque space station.
What is your favourite architectural book?
Translations from Drawing to Building by Robin Evans is brilliant, showing through agile observations the relationship between space, psychology and social behaviour.
What are you listening to?
Teaching at the Bartlett this summer, our students built a model of the Smithsons' Robin Hood Gardens on a landscape peppered with visibly vibrating speaker cones. We found just the track to hit the low frequencies — so Earthquake by Labrinth is now a favourite on my playlist.
What have you sacrificed for your career?
Predictability.
Is it getting easier?
I hope not.

Postscript:
Tomas Klassnik is founder of the London-based Klassnik Corporation