Tom Coward: 'I'm a sucker for the colloquial'
The AOC director on Los Angeles, green belts and why kids love cad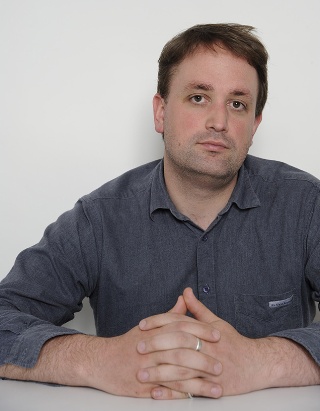 What got you started?
Reflections of crooked timber framed merchant houses in the faceted glass of the Willis Faber Dumas in Ipswich as a boy.
Who was your most inspiring tutor?
Neil Jackson for making Victoriana and Americana real; Jonathan Hale for a context of thinking; Mark Prizeman for useful tangents.
Which architect have you learnt the most from?
I generally find it is the fleeting anonymous buildings you see en-route to the masterpiece destination that are of perhaps equal long term interest… not always the case — Stirling, early Gehry, Kahn, Venturi, Corb often astound.
Which living architect do you most admire?
I try not to have favourites.
What "great" architecture leaves you cold?
Lack lustre lazy tropes, which apparently don't fully engage with the where, the what, and the why. Difficult to spot for sure before you have witnessed them first hand though.
What project do you most regret losing?
It was sad that our two competition winning schemes on the Elephant & Castle Early Housing sites did not continue through to completion, but perhaps more so that our low energy black house in Suffolk did not come to life.
What part of the design process do you most enjoy?
Working through the where, the what and the why.
What is your Achilles' heel?
I am a sucker for the colloquial rather than the formal.
Which house would you most like to live in?
The Eames House for its arrangement, its accoutrements, its setting and its locale.
What is your favourite city?
Little bits of everywhere, but for me London seems to hold versions of all of them in a convenient way.
What building would you most like to see demolished?
I love buildings. Demolition should be a considered last resort.
You can work in whichever city you want at any point in history - where and when would you choose?
In a dreamy kind of way it would be LA as Reyner Banham describes it in four ecologies — maybe I would have been a roller blading waitress at the drive in for a while? Or forgetting poor equality and quality of life for a minute, a biography on Robert Hooke suggests that 17th century London might have been a "fun" discovery for the few.
What is the most important relationship of your working life?
Everyone at AOC, but especially the three other founders Geoff Shearcroft, Daisy Froud and Vincent Lacovara.
Who is your favourite client?
I am enjoying collaborating with Cottrell & Vermeulen and Sarah Wigglesworth Architects on a housing project at North West Cambridge for the University of Cambridge.
What would be your dream commission?
More and more apparent is the need to set the context and the manner of designing rather than any other aspect of the commission.
What one piece of legislation would you introduce?
I might replace the idea of a green belt with something more subtle and polycentric. Copenhagen's green fingers suggest a way of limiting growth in a different way whilst maximising proximity to the green space. Feels like there needs to be a better idea about what London and the south east really are in the 21st century.
What is your favourite architectural book?
Rizzoli did a really lovely series of not-coffee-table monographs in the mid 1980s, which we are slowly collecting second hand.
What is your favourite novel?
My favourite books this year: Something Like Happy by John Burnside, Paul Auster's Winter Journal and Look at Me by Jennifer Egan.
What are you listening to?
My Tiger My Timing is a favourite of last year.
What does your family think of your work?
My children are only just beginning to get the idea of what daddy does at work — 'Aahhh, yeah, that looks cool… it's funny. I like the windows, double thumbs up" — is a current summary. My youngest really really likes watching the spinning orientate view tool in cad.
Postscript:
Tom Coward is director at AOC Architecture