Ole Scheeren 'I deeply respect Rem's work'
The partner at Buro Ole Scheeren on Rem Koolhaas, Beijing and architects' terrible mistakes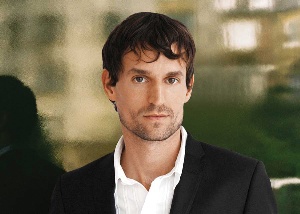 What got you started?
When I was born, my father was studying architecture so I basically grew up at architecture school dismantling models — deconstructing rather than building anything.
Who was your most inspiring tutor?
It was a multitude. I studied at several schools and moved from Germany to Switzerland to the AA. Each school had a different focus from technical to generalist issues; it was the combination of those that made it relevant somehow.
Who was your most inspiring tutor?
It has to be Rem Koolhaas. We've been working together for 15 years — I was a partner for almost a decade, and it was an incredible collaboration.
I'm really thankful for all the things I could do.
Which living architect do you most admire?
I still deeply respect Koolhaas's work and his thinking.
What's your best project?
It's a terrible mistake for an architect to think of a best project because you always have to love everything you're doing, and you have to be focused on everything you're doing at that moment, so it should always be what you're working on.
What project do you most regret losing?
Regret is also something we can't afford as architects.
What part of the design process do you most enjoy?
I enjoy both concept and thought, but the process of how to translate a thought into reality is what makes things really relevant.
What's your favourite city?
There are too many to mention but Beijing, where I've lived for a decade, is an incredible place.
What would be your dream commission?
I've never had a dream commission. I think you have dream situations maybe where you encounter a client, a place, a site, a context that really wants to do something and go somewhere — that's the most exciting.
What's your favourite novel?
The book that had the most important effect on me is The Aesthetics of Resistance by Peter Weiss. It's a historic book, a very political book.