How Lubetkin's grand visions for Peterlee ended up dead in the water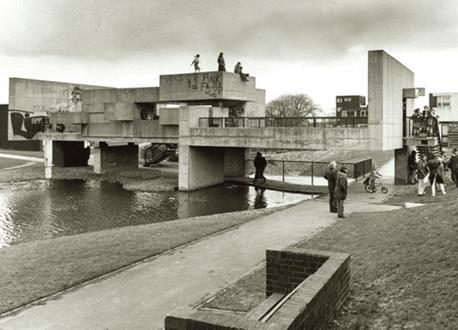 Britain in their sites: Peter Lee
BBC Radio 4, May 24



4/5

Radio 4's Britain in Their Sites explores Berthold Lubetkin's failed ambitions for the post-war new town of Peterlee, County Durham
"We were to build neither a suburb, nor a garden city, but a town that will be as truly urban in character: as compact in plan, and as distinguished in architecture, as any of the great cities that belong to the great ages of town building."
These are not the words of Richard Rogers, or any other signed-up member of the Urban Renaissance, but the chair of the Peterlee Development Corporation in 1948. Aspirations for this idealistic new town in County Durham, were high, the vision bold and the plans modern. Designed by Berthold Lubetkin, architect for the modernity of London, Dudley and Whipsnade zoos, it was a deliberate contrast to the more suburban flavour of Stevenage and the other new towns orbiting London. A physical embodiment of the Welfare State the city was to bid farewell to the squalor of the 19th century mining villages and create a "futuristic miners' capital".
Yet these urban dreams had been dashed before they were drawn by a single letter from the Ministry of Planning to the National Coal Board. This missive confirmed "only detached or semi- detached houses would be built" at Peterlee, to reduce the risk of subsidence damage should the NCB decide to mine the three seams of coal that lay under the proposed site. Two years after the new town's designation, stalemate was reached and Lubetkin felt forced to resign, his plans for a compact citadel abandoned.
Despite the visual nature of the subject matter Radio 4's Britain In Their Sites account of the story behind Lubetkin's stillborn modern city is fascinating. Its narrator, historian Tristram Hunt, draws heavily on the narrative and quotes of John Allan's published essay, "Lubetkin and Peterlee", to create a compelling account of this "often overlooked" new town. Hunt appears to indulge in a spot of myth-making when he introduces Peterlee as the first in a series exploring "three of the great building battles of post-war Britain", yet in many ways Britain's second smallest new town (population 30,093) summarises the fundamental debates that have dominated the nation's planning ever since: familiar versus new; low versus high density; laissez-faire versus centralised planning; giving people want they want versus telling people what they should have.
The decision makers who appointed Lubetkin to design Peterlee felt he was a revolutionary "in the tradition of Nash or Christopher Wren". Had they read their architectural history books, rather than just looked at the pictures, they would have known that both these great architects had severe problems delivering masterplans.
The people wanted advancement, and advancement was to live in semi-detached houses
Political freedoms, widespread land ownership and economical entrepreneurship have combined to make Britain's towns and cities consistently resistant to grand visions, particularly those that have presented themselves as modern. In recent years, statutory public consultation has been one attempt to overcome this obstinacy. At its best it ensures large-scale plans accommodate the needs and aspirations of the people they affect.
Lubetkin had a strong belief in bottom-up planning, as well he might having experienced the Russian revolution as a teenager. In a quest to learn about Peterlee's future residents he visited the collieries, held local meetings and met miners in their existing back-to-back homes. His subsequent proposals for compact, densely planned terrace houses were, he said, "to paraphrase in terms of visual composition the solidarity of the mining community". Yet as an early Peterlee resident remembers it wasn't solidarity the miners wanted. "The general feeling was that people wanted advancement, and advancement, as far as they were concerned, was to live in semi-detached houses."
Such a disparity between his designs and the residents' aspirations suggests that it was not only the machinations of government but the chasm between Lubetkin's political beliefs and his architectural tastes that destroyed Clement Attlee's New Jerusalem.
The series continues this Sunday when it charts the creation of Canary Wharf. Radio 4, 1.30pm.
Postscript:
Geoff Shearcroft is a director of AOC and teaches a design unit "Learning from Milton Keynes" at London Metropolitan University.