Gothic architecture and 19th century photography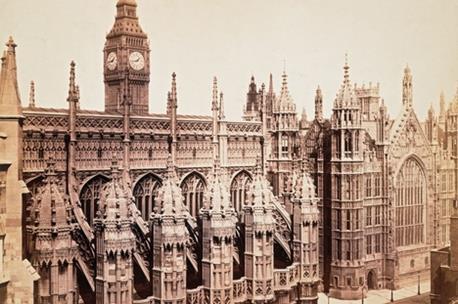 Gargoyles and Shadows: Gothic Architecture and 19th Century Photography
V&A, Cromwell Road, London, SW7.
Until May 16

www.vam.ac.uk
4/5 stars

Gothic architecture's complexity made it ideal for the pioneers of photography who could capture every detail
The inventor of paper photography, William Henry Fox Talbot, lived in Lacock Abbey, a gothic revival house built into the fabric of a 13th-century abbey. Gothic architecture was therefore one of the central subjects of photography from its inception. One of the very earliest extant photographs is of the oriel window at Lacock. Talbot continued to capture gothic buildings, notably in his publication of locations from the novels of Walter Scott, in Sun Pictures in Scotland.
Considering this strong link between one of photography's progenitors and gothic architecture it's odd the V&A's new exhibition does not mention Talbot.
Nevertheless, looking at the Bisson Frères' wonderful photograph of Rheims, one understands why 19th century photographers were so drawn to gothic architecture. One of the most distinct features of the new invention was its ability to record any amount of detail. The breathtaking melange of statuary and tracery (along with the odd bit of 19th century scaffolding) of the west front could be captured with as little effort as an object much smaller or simpler.
There is an acrobatic drama to some of these photographs. Before the invention of a process of enlargement, a camera needed to be as large as the final print. It is thrilling to think of Charles Marville perching gargoyle-like with his massive apparatus on the roof of Notre Dame de Paris, to capture up close Viollet-le-Duc's new spire.
The show is interesting on organisations such as the Mission Heliographique and National Photographic Record, which recorded buildings photographically as an early effort in the preservation movement. However, their importance might have been clarified by actually demonstrating how these images succeeded in documenting something now lost.
There is an acrobatic drama to some of these photographs
The section on the gothic revival starts rather off-period with some engravings of Strawberry Hill —perhaps attempting to drum up interest for the V&A's spring show on Walpole? Nevertheless a photograph from Lambeth Bridge, picturing both Westminster's palace and abbey before other buildings got in the way, admirably reveals all the madness of the gothic revival.
One wishes the section on Ruskin, which hints at how important photography had been towards the research for the Stones of Venice, had included some of his actual daguerreotypes instead of a facsimile. It is an exciting field — over a hundred of Ruskin's photographs of Venice were discovered in 2006 at the Penrith Farmers' & Kidd's auctioneers, valued at £80!
The show ends with two extraordinary photographs signaling the 20th century's concentration on light and patterns over excess of detail. The first is of Lincoln Cathedral and is by Frederick H Evans. It is clearly a cousin to his famous Sea of Steps image of Wells Cathedral. It is a fabulous image; descending pointed arches forming the spiral pattern that obsessed Evans and his friend, Theodore Andrea Cook, whose Spirals in Nature and Art contains some of Evans' photographs.
I'd have liked more of Evans' obsessively composed cathedral images. The final photograph is by a follower of Evans and captures a miracle — light pouring through a baroque rood screen in Spain. It is heavily touched up and is staggeringly beautiful.
The most important exhibition ever of 19th-century British photography, Impressed by Light, was shown in New York, Washington and Paris in 2007, but not in London. Why are these fabulous things consigned to the pokiest corners of the V&A?