Film review: Inception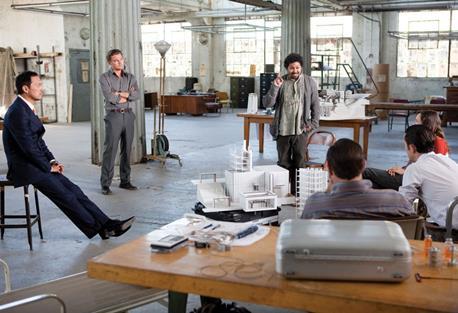 Inception
Directed by Christopher Nolan
Cert 12A - on general release
3/5 stars
Christopher Nolan's latest film offers a depressingly unrealistic idea of the architect mentality.
There have been many architects in modern cinema: Tom Selleck in Three Men and a Baby; Tom Hanks in Sleepless in Seattle; and the recently widowed Liam Neeson in Love Actually, for example.
With the possible exception of Charles Bronson's architect-turned-vigilante in Death Wish, to be an architect in a Hollywood film is to inform the audience of certain characteristics: sensitivity, vulnerability and an innate romanticism.
Female architects are rare in mainstream cinema, because to be both an architect and a woman is cinematically tautological. In Hollywood, architects exist only in romantic comedies, and romantic comedies are only produced for female audiences.
We can now welcome a new cinematic portrayal of the architect. In Christopher Nolan's latest, Inception, Leonardo DiCaprio plays Cobb, who makes a living breaking into people's dreams. In order for him to pull off the greatest job of his career, he needs a talented architect to design some vast imaginary cities.
Luckily, his father-in-law (Michael Caine) is an architectural academic. We know this because, like all architectural academics, we find him in front of blackboard doodles of Brunelleschi's Santa Maria del Fiore.
Ellen Page rose to fame in Juno, in which she played an accidentally pregnant teenager. In Inception, she plays Ariadne, an architecture student (evidently well served by Caine's comprehensive primer in Renaissance architecture), whom Cobb recruits to design three imaginary mental landscapes.
If you're stranded for eternity with limitless resources, why live in an empty metropolis?
In the dreamspace, anything may be constructed. It's something of a disappointment, therefore, to discover that for her first assignment, Ariadne has to lovingly recreate the anaemic concrete and glass cityscape of downtown Los Angeles.
She goes on to design an entire skyscraper complex for a second universe nested within the first, demonstrating with ease her capability to produce thousands of square miles of comprehensively planned buildings in the same amount of time it takes most students to draw a sun-path diagram.
Whereas to be a successful part II student generally involves straying furthest from the actual design of buildings, Ariadne is a dependable square, seen with dozens of carefully produced sections, elevations and models in the workshop. We can be certain that her imaginary damp-proof courses are correctly detailed.
Cobb himself is not unfamiliar with architectural design either. During an extended sojourn in the dreamspace, we learn that he and his partner lived in a monstrous city of identical skyscrapers, a filmic hybrid of Brasilia and Manhattan. Neglected for decades, by the time we visit it, its loveless towers have begun to collapse into a plot hole. Namely, if you're stranded for eternity with your lover, with the limitless resources of your imagination to work with, why would you live in an empty modernist metropolis?
Inception does not offer a step change in the cinematic exploitation of the architect. As a narrative tool, the profession has long been manipulated in bizarre ways. Instead, Inception exploits the role to create the ideal landscape for the movie camera. Cobb and his wife always lived in a skyscraper city not because their characters believably wanted to, but because it was the most visually arresting landscape for the CGI artists to render as a ruin later in the film.
It's no wonder that architects in cinema are so emotionally vulnerable. When we do get to judge their work on screen, it's pure fantasy.