From Garden City to Green City
Going 'Green' in the City: From Garden City to Green City
Garden Museum SE1
Until 1 April 2012
4/5 stars
An exhibition at the Garden Museum provides vital insights into our fragile relationship with the environment
It's no secret that architecture wants to be green these days. The upsurge in environmental consciousness over the past decade or so has led to all kinds of spatial expressions of the desire to somehow be in harmony with, or at least kinder to, Mother Nature. But these approaches vary greatly. At one extreme you have massive, unsustainable buildings with a few living walls slapped across their facades; at another end is "climate camp", which attempts to prove that zero-carbon urbanism is plausible — compost toilets and all.
From Garden City to Green City, an exhibition at the Garden Museum in Lambeth, curated by Dominique Heyse-Moore, attempts to sift through and provide possible narratives for the conflicting voices, and in the process makes some vital observations.
The exhibition opens with a 17th-century panoramic engraving of London by Wenceslaus Hollar, surrounded by historical images of areas we now associate entirely with the sprawl of London. This skilfully evokes that particularly English sense of nostalgia for some form of "natural" past, and we are left marvelling at the depictions of rolling fields, now far beneath concrete and tarmac.
It was this nostalgia that the Garden City movement, which is an early focus of the exhibition, tapped into. Born out of the utopian dream of a new 20th century and the industrial horror of the 19th, Garden Cities were visions of equilibrium, of people and machines, the urban and the rural. The desire to temper the alienation of the city was not only a dream of the nostalgics, though: a series of drawings of Janet Jack's landscapes for Camden's Alexandra Road housing estate show the care often given to landscapes in modernist housing.
"Nature" was very much a preoccupation of the romantic mind, and the exhibition makes some excellent points in this regard. "The ruin" — that old allegory of humanity's battle with nature — is prominent. Real ruins are represented by the destruction of WWII, when the little plant "London Pride", sprang up defiantly across the rubble created by the blitz. The contemporary metaphor of ruins, as a symbol of failed utopian projects, is given form by a series of drawings by Wieland Payer showing various brutalist landmarks in advanced states of decay, overcome with foliage.
It is these images that the show pivots around, both physically, as they link two main gallery spaces, but also conceptually, as they depict the two aspects of nature, both gentle arcadia and mindless, indifferent destroyer.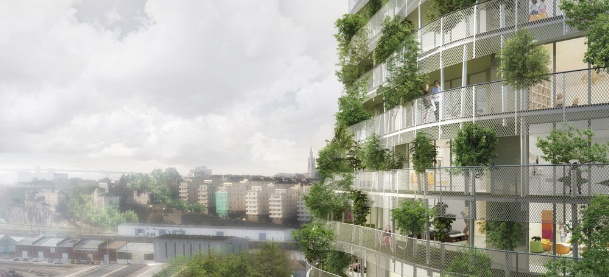 In this way the exhibition tries to make sense of the current situation — and "the increasingly urgent question of the environmental impact of urban growth". One approach given a lot of space is what we might call "hipster urbanism": we are shown various schemes, typical of east London, in which groups of the cultured middle class discover the joys of owning allotments and growing vegetables on their roofs. While they show a genuine desire to achieve greater harmony with nature, these initiatives are often pointlessly smug and lack any large-scale potential.
In architecture there are some promising signs. Feilden Clegg Bradley's One Brighton is a block of flats that presents itself as a zero-carbon development. We also have Stefano Boeri's vertical forest, two residential towers under construction in Milan that will be planted with 10,000 sq m of trees and foliage. They point, as does Jarek Kozakiewicz's film Nature of/for Living, to a world in which each building processes its own waste and emissions, tending towards equilibrium.
But as time passes it looks increasingly as if that equilibrium is long gone. What this exhibition is silent on is the radical technological relationship between nature and architecture. For example, the first environmentally conscious architecture was the winter garden of the 19th century, the prototype for all modernism.
These first attempts to preserve nature against itself were compelling fusions of the organic and the industrial, a line of enquiry that was reinvigorated in the 1970s with characters such as Buckminster Fuller, whose proposals for bio-domes covering entire cities are beginning to look less far-fetched with each approaching storm. So overall, while everything depicted in this show will play a part, perhaps if we are to preserve ourselves within nature at all we need to be thinking not only about verdant surroundings, but also about less aesthetic solutions.
Postscript:
Douglas Murphy is author of The Architecture of Failure, out this month.