David Kohn and Fiona Banner: A Room for London
David Kohn and Fiona Banner's nautically inspired hotel room perched above the Hayward Gallery is open for business
"We got more than 500 entries but there were a lot of pods," Alain de Botton tells me as we stand on the deck of the newly completed winner of last year's A Room for London competition. It's not hard to see why. We are, after all, perched on a concrete crag of the Hayward Gallery, whose designers included future Archigram members Ron Herron, Warren Chalk and Dennis Crompton.
De Botton's dream of a one-room hotel, hosting a different group of guests for every night of the Olympic year, carries a strong whiff of sixties radicalism — a plug-in, in all but name. And yet the winning proposal in the competition run by de Botton's charity, Living Architecture, in collaboration with Artangel, could hardly be further in spirit from Archigam's pop-futurism.
Designed by David Kohn Architects and the artist Fiona Banner it is modelled closely on the boat in which Joseph Conrad travelled up the River Congo, a journey that famously inspired his novella Heart of Darkness. This association is teased out in the internal fittings, which include wall-mounted maps describing the river's course, books on Leopold II's imperial adventures and even a portrait of the old monster, which can thankfully be hidden from view behind folding panels.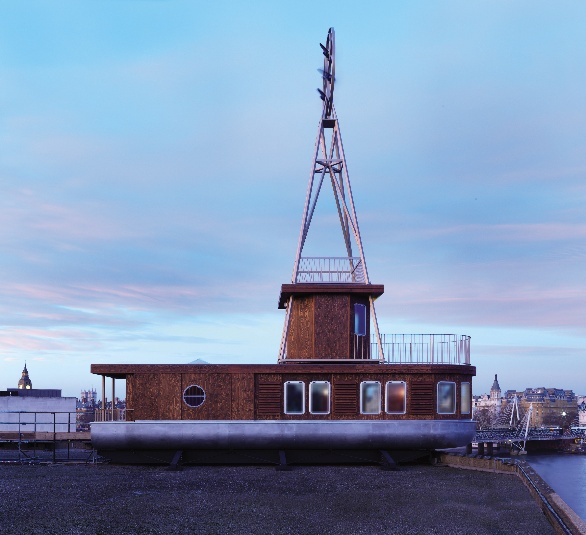 Source: Charles Hosea
In a year in which the world descends on London in a celebration of Olympic ideals, we find ourselves isolated, in another time and place, bound for the horizon with no healthy purpose in mind.
If all that makes it sound like guests will be unlikely to get a good night's sleep, the space does at least offer opportunities for distraction from its sinister premise. The view, for one thing, is mesmerising. If you prove capable of sussing out the assorted hatches, folding desks and ladders you will need to operate, you can look out not only from the hull and main deck but also from a pocket-handkerchief observation deck lodged within the frame of the wind turbine, which gives the project its commanding profile.
The large porthole of the WC is also a treat, its circular form echoed both in the view of the London Eye that it frames and in the shaving mirror it illuminates.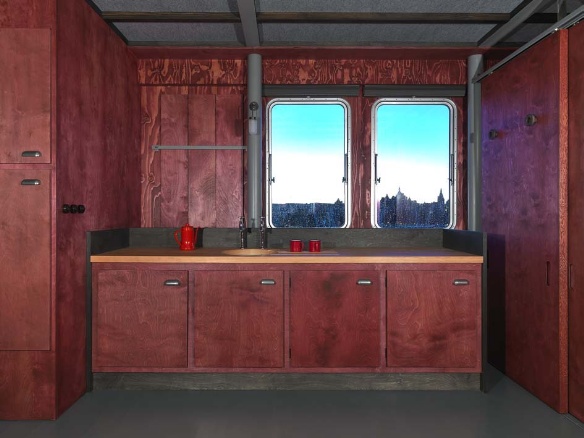 Source: Charles Hosea
Kohn cites the Soane museum as a secondary reference — like the boat that Conrad's Marlow occupies, it is another refuge from the world, where obsession has run wild. The influence is discernible in the blood-red walls and liberal provision of mirrors but most of all in the ingenious transformative furniture. After their initial encounter with chastely separated single beds, guests will be particularly relieved to discover that they can be neatly drawn together to occupy the centre of the room.
Suss out the assorted hatches, folding desks and ladders, and you can look out from an observation deck under the wind turbine
For those who didn't manage to secure a night's stay when the first six months were made available online (and sold out in 12 minutes) you can try your luck again at midday this Thursday when booking opens for the second half of the year. If that brings no joy, you will have to make do with the year-long programme of concerts, readings and soundworks being broadcast from the structure, which promises to further explore the themes of displacement and empire that Banner and Kohn have framed.
After that, their boat's destination remains unknown. There is talk of it travelling around outer London but there has also been an appeal for it to journey to Hong Kong. Wherever it ends up, it is hard to imagine it resonating quite as suggestively as it does in its present situation. As the world's eyes turn to London, they will find, at its centre, a vessel carrying some very strange cargo indeed.
Booking for the second half of the year goes on line on Thursday January 19 at midday.
Postscript:
Photos by C?harles Hosea