Building a body of research
Ellis Woodman sees architects turn their own work into material for a PhD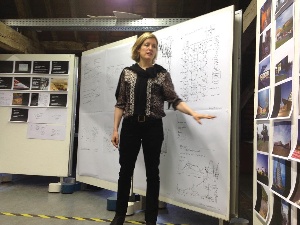 The academic cultures of many countries, not least the UK, have long struggled to recognise design as a form of research. The kind of scholarship that is supported by — and generates income for — the architecture schools of British universities may be focused on questions of technology, history or sociology; but the idea that an architect's day-to-day activity might in itself be deemed a valuable form of research remains alien.
In this context, a pioneering initiative by the Royal Melbourne Institute of Technology's School of Architecture & Design represents a valuable breakthrough. In 1986, a professor at the school, Leon van Schaik, established a programme which allowed practising architects to present their own work as the subject of a PhD.
Over the course of three or four years, participants attend reviews every six months in which they articulate their methods and motivations. At the end they are required to stage an exhibition, submit a 40,000-word thesis and undergo a viva.
The course has established a solid track record in Australia, and in the past few years has begun to operate overseas too. Two years ago, a satellite programme was established in the Belgian city of Ghent which has proved attractive to architects from all across Europe, including the UK. The most recent review session took place last weekend and was attended by current candidates including Deborah Saunt of DSDHA, Tom Holbrook of 5th Studio and Nicholas Boyarsky of Boyarsky Murphy.
'Having your work reviewed by a jury of peers offers a real stimulus… it's a form of therapy'
Having just started the course, Boyarsky says it has already proved rewarding. "After 15 or 20 years in the thick of practice you can lose touch with some of the reasons why you set up in the first place, and having your work reviewed by a jury of peers offers a real stimulus," he says. "It's a form of intellectual therapy."
Across the two days of reviews in which I participated as a member of the jury, we were presented with a strikingly wide range of presentations. Some participants viewed the process as a chance to open up new avenues, while others saw it as more of a retrospective activity: a means of identifying an intellectual position which might previously have lacked articulation.
The course has recently received a €4 million EU grant which will allow it to expand significantly.
In the absence of any comparable course in the UK, it is a safe bet that an increasing number of British architects will be joining it.
PhD by Practice
For information about the RMIT course, contact Katherine.mott@rmit.edu.au