Buckminster Fuller Live
Noel Murphy's one-man show brings Buckminster Fuller's ideas to a wider public
For two days only, Buckminster Fuller, the visionary American designer and author best known for inventing the Dymaxion car and house, will live again at the Building Centre in London. He is being brought back to life on stage by Noel Murphy, a US actor, business coach and Fuller enthusiast who is staging Buckminster Fuller Live, a multi-media experience with Murphy in character as Bucky himself.
California-based Murphy has been performing the tribute show since 2009 but this is the first time he has taken the event outside
the US.
"One of my aims for the audience is that they get what Buckminster Fuller got so deeply, that everything is architecture — interpersonal relations, life, the universe," he says. "I hope that people get the power they have to be designers, and can walk away with what they can do to design life."
Murphy's interest in Fuller (1895-1983) began when, at the precocious age of 10, he was taken under the wing of Fuller disciple Hugh Morgan Hill, a teacher at the Harvard Divinity school of religious and theological studies. Murphy has since built up an archive of Fuller's work and is completing The Last Dymaxion!, a film about Fuller and his influence which he hopes to show at this year's Sundance Film Festival.
'I hope that people get the power they have to be designers, and can walk away with what they can do to design life'
In the show, Murphy hopes to convey some of the inspirational quality of Fuller, who had, he says, a life-changing impact on the careers of many from all walks of life, such as John Robbins, who renounced the Baskin-Robbins ice cream fortune in response to Fuller's teachings and went on to write the Pulitzer Prize-nominated Diet for a New America.
"Fuller had an amazing impact," says Murphy. "When people who were watching life go by feeling like they had no influence were exposed to him, many got into action in whatever they were doing — artists did more art, architects played it bigger, politicians took more risks.
With his then radical views on energy-economy for cars and buildings dating back to the 1930s, Fuller was way ahead of his time and was regarded by many as a crackpot. In character, Murphy will cover some of his key ideas in the show on design, technology and the importance of positive thinking and creativity.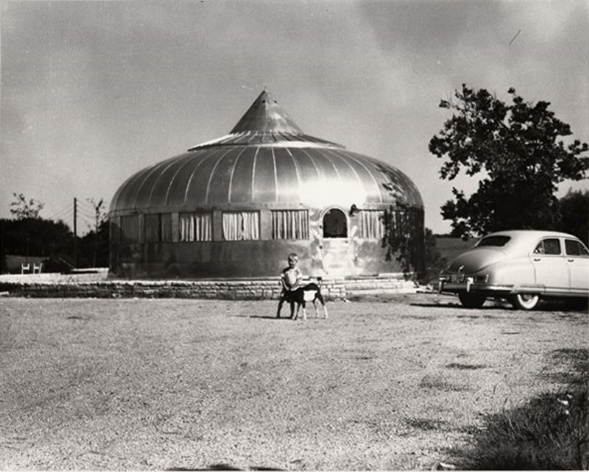 "Bucky's influence in architecture itself led to what we now know is the sustainability movement," says Murphy. "He believed it was every architect's responsibility to bring their genius to their designs in order to build bigger and better with less. It's amazing how many worlds he touched… Physics, mathematics, old-school hippies, teachers, architects — every one of these groups feel like they know Bucky."
Above all, the aim is that the Buckminster Fuller Live! experience will, like the man himself, be empowering, with the audience asked to make a declaration about how they can personally contribute to the wellbeing of the world in whatever way they can.
Noel Murphy's show is being brought to the UK by Atelier Ten principal Patrick Bellew, a Buckminster Fuller fan who met Murphy at Yale where Bellew is a visiting professor. He arranged for a group of sponsors from the architecture and design world including Foster & Partners, Allford Hall Monaghan Morris and Wilkinson Eyre, with funds going towards completing the film.
"It struck me that it could be a very good learning experience for a generation who might not be so knowledgeable about what he did," says Bellew, who thinks Murphy can make Fuller's prolific and widely diverse work accessible to a contemporary audience. The performances are being held as part of the Building Centre's 80th anniversary celebrations.
See the Fuller show
Buckminster Fuller Live will be at the Building Centre, Store Street, London on May 2, 6.30-8.30pm and May 3, 10.30am-12.30pm. Tickets from the Building Centre.