Brutalism: Where did it all go wrong?
In a crowded field, this exhibition has much to contribute and deserves a bigger platform than the RA's architecture 'corridor', says Daniel Elsea
"A haunting glimpse of a future that never quite happened," is how Owen Hopkins describes a collection of post-war buildings that have either been demolished or substantially altered. 35 of these structures are illustrated in a new catalogue written and edited by Hopkins for the Royal Academy of Arts which accompanies a nostalgic display, Futures Found, in the RA's Architecture Space.
Today, there is a growing appreciation of the architecture of this era as recent campaigns to save places like St Peter's Seminary or the University of Durham's student union testify. A contemporary fascination with the period oozes from our social feeds through popular websites such as The Modern House or Stefi Orazi's Modernist Estates and there is a clear mid-century fetishisation that predominates in today's domestic tastes. Throw in Instagram and a generation of young adults priced out of the terraces and suburban aspirations of their parents and you have a veritable cocktail for coolness. Nothing seems more on trend now than having your very own concrete balcony, replete with low-maintenance cacti, in an ex-council block.
Futures Found covers a remarkable amount of ground for such a small display. Six guest curators were invited to create mood boards covering different facets of post-war architecture: social housing, public space and case studies on the Brandon and Aylesbury Estates, St Peter's Seminary and the University of Essex. It was the new university, designed by Kenneth Capon/Architects Co-Partnership, which seemed to crystallise the zeitgeist of the time. It aspired to be hyper-modern, to restore relevance to a West both in awe and fear of Sputnik yet very quickly, by the excitable May of 1968, it became engulfed in the social miasmas of radical leftism of that rocky year. The Corbusian polemic of its masterplan seems a world away from a more cloistered academic commission of the same decade, which wasn't exhibited - Arne Jacobson's St Catherine's College, Oxford. The bucolic setting of St Catz is deeply satisfying. It belies a spirituality that must not have been that different from St Peter's Seminary in its youth as the section on the Catholic citadel, curated by Penny Lewis of the University of Dundee, reveals. Its serenity and monumentality immediately brought me back to a recent eye-opening visit to Pereira's and Portas' Sagrada Coração Church in Lisbon. For all its socialism, brutalism produced some great religious architecture.
It has been housing, however, where 20th-century architecture has drawn the most critical ire and this is where most of Futures Found dwells. One juxtaposition is particularly illuminating: the Isokon Building (from the 1930s, so technically not post-war) sitting side-by-side with the Heygate Estate, two images selected by UCL archaeologist Victor Buchli. One, so successful; the other, an indictment of all that went wrong. It begs the question, why?
Some of it naturally must be down to architecture. Some buildings are simply better designed and situated than others. Who could say no to those vaulted ceiling units at Golden Lane Estate's Crescent House? (Need we even mention the Barbican, the sacred cow in the mid-century liturgy?). Yet I suspect a big piece of the puzzle has nothing to do with architecture at all. Plop some concrete slabs into one of the most deprived areas of London or gently nudge a little concrete into a corner of Hampstead and you are likely to get very different results. Post-war architecture's shortfalls may have been, in part, due to design but wider socio-economic failure must also shoulder the blame for the condition of many estates.
Many buildings included in the catalogue brought to mind examples that have fared better, creating a poignancy of contrasts. Two in Birmingham, for instance, were reminiscent of American cousins that have survived - the youthful Birmingham Post & Mail building bears a resemblance to Bunshaft's well-aged Lever House just as the muscular Central Library had the presence of Boston's now grudgingly admired brutalist City Hall.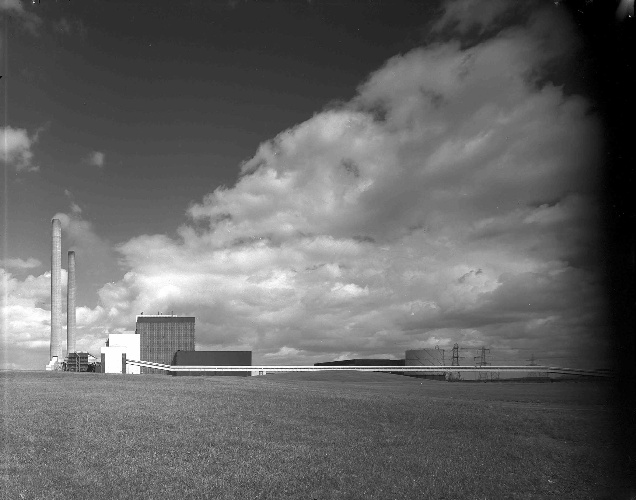 Source: Henk Snoek/RIBA Collections
Here, Hopkins' selection of Henk Snoek's evocative photography shines. From the undercrofts at Basil Spence's Queen Elizabeth Square in Glasgow there is an echo of Chandigarh's optimism. The photographer's monumental treatment of the Hinkley and Cockenzie power stations evokes the rational beauty of Fagus Werk, creating another unsettling juxtaposition with the project immediately preceding it, Sheffield's Gleadless Valley Estate. The nuclear power plant is far more appealing.
Refreshingly, there is reference to the influence of Le Corbusier and the Bauhaus in Buchli's display. It's a reminder that modernism was not uniquely British. Post-war architecture is post a world war, after all, and we miss something when we see this piece of our architectural heritage in splendid isolation. This too was the era of Kenzo Tange and Japanese metabolists responding in their own way to the trauma of that same war, of Robert Moses and Alphabet City giving rise to the Jane Jacobs revolt in lower Manhattan, and the emergence of post-colonial modernisms in the Indian sub-continent and Africa.
This is big stuff - post-war architecture - which is why what was most surprising was that Futures Found was limited to an ancillary area for passing through, tucked discretely under the RA's grand Burlington House staircase, on the way to the café, just past the toilets. One day soon, let's hope this period of architectural history gets the blockbuster exhibition it deserves.
Postscript:
Daniel Elsea is a director at Allies and Morrison.
Futures Found: The Real and Imagined Cityscapes of Post-war Britain is on at the Royal Academy until May 29. The accompanying catalogue, Lost Futures, is available at the RA shop.