Best in show
BD concludes the round-up of student work from the architecture schools' end-of-year exhibitions. Ed Frith, Gerrard O'Carroll, James Payne and Peter Wilson report
Royal College of Art
Pros Thoughtful, playful, with big ideas and narrative.
Cons Detailing and material ingenuity overshadowed in architecture show, but there in other disciplines.
Standout students Jonathan Pugh, Gemma Douglas
4/5
Amid the imperial order of Albert's buildings and parkland in South Kensington were the ephemeral summertime happenings of late capitalism: Nelson Mandela was having his birthday party, Louis Vuitton was launching a $17,000 Richard Prince/Marc Jacobs handbag at the Serpentine Gallery, and big Frank was heaving up the construction of his latest throwaway sketch model as the Serpentine pavilion. This was before I even reached the entrance of the Royal College of Art, where a turbo-charged toaster was attempting to fling a piece of burnt bread into the stratosphere.
Material madness continued inside the RCA, with cars made of plywood, vases moulded in leather, chairs of recycled paper, exquisitely printed and patterned fabrics. Among the masterful designers of fashion, furniture and 3D design, architecture has a representational problem as it is more about ideas, drawings and text, than about making.
Playfulness and ambition
The playfulness, ambition and creativity of the projects on show, the presentation and the catalogue are all superb. Cakes are baked and decoration mastered as the centre point of a deeply serious unit agenda reconsidering the social contract and the reappropriation of those outside the norm — the military gets an institutional makeover, for example.
The catalogue is a tour de force full of vibrant tutor and visitor essays, as well as student work. Laser-cutters whirr out models, although they unfortunately create remarkably unconvincing forms. In the past RCA of the long-gone Gowan years, we would have expected more material and construction.
The RCA architecture department has always been an odd and special place. It attracts some of the country's best graduates, some of whom are escaping the straight-jacketed diploma units of the Bartlett, others sampling the bright lights of London for the first time. Students are not only able to mix with very creative media and design graduates but also have access to some brilliant tools, workshops and labs.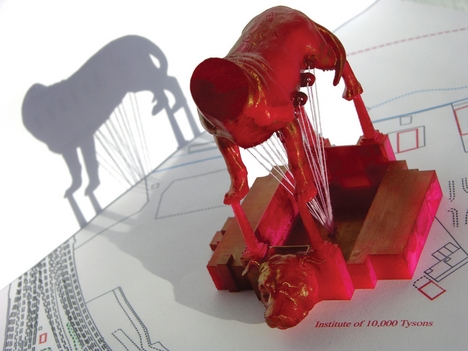 Nigel Coates, who has been at the RCA for 12 years, must be one of the longest reigning heads of an architecture school, and still appears to be excited by the ecstatic nature of the work produced, as well as by the institutional shift which will create an MA in interior design for 2010.
Resonances run through the units — of programmatic intensity, narrative and playfulness — which also traverse most of the 3D design programmes, particularly the notion of the island.
Survival in ADS4 and the creation of Albion Island — 1980s Nato lives again — in the mouth of the Thames Estuary is strong, while Value Added, Clive Sall's unit, created a South Bank island, Isle de London. In the Battersea unit, a polystyrene island dominates, a place where dogs that have eaten too many cakes can rest.
The units do not appear competitive or bitchy, and all work comes together in the warm feel of Nigel's kennels.The energy of the work reflects a particular London — no recession-hit, credit crunch city here.
Architecture is throbbing away in the heart of the metropolis at the RCA.
Ed Frith
Architectural association
Pros The [C] Space and Swoosh pavilions.
Cons Impenetrable unit texts and inconsistent captioning.
Standout students Adam Nathaniel Furman (unit 9), Martin Jameson, Deena Fakhro (unit 6)
3/5
Like Ascot or Henley, AA openings never really change. Champagne and strawberries, the fading cricket marquee in Bedford Square, an attendant ageing avant-garde, and a student body almost uniformly clothed in taupe and black all hint at a uniquely British architectural education that is safe and assured.
In contrast, two great temporary pavilions on the square attempt to offset this apparent nostalgia with a little danger, and provide an introduction and promise for this year's project review. [C]Space by Alan Dempsey and Alvin Huang, and the intermediate-designed Swoosh both hint at an emergent and beautiful architecture, and somehow remind us that Zaha, Rem, Peter Cook and Tschumi all began their revolutions here.
Competing for attention
The warren of little rooms on Bedford Square is not an ideal gallery space, and with 500 students across intermediate, diploma and research units to accommodate, one expects a severely edited snapshot of the work. But with all 13 diploma units staging their own mini-shows and competing for audience attention, it took three visits to unravel the Babel-ic confusion of layout, graphic devices and type used as excuses for exhibition navigation. You'd expect the AA to have learned to communicate and present this review more legibly by now.
The over-long unit introductory texts, true to tradition, defied me totally with the sort of linguistic barbed wire usually found in EU reports. Gems such as "a synthetic agent whose role, reconfigured through the construction of hypercontexts, denies the abdication of critical authorship" left me none the wiser.
When it was possible to match a student's name to the models or drawings on show, minimal explanatory texts or back-up information reduced the reading of the work to a purely subjective "is it pretty or not?" Some of the work was definitely pretty; Diploma 16 presented some attractive rapid prototypes such as Eda Yetis's aerodynamic hurricane house. Both Martin Jameson and Deena Fakhro in Dip 6 were outstanding with handsome models and, unusually, enough information in their accompanying books to give more detailed insight into both their airport proposals.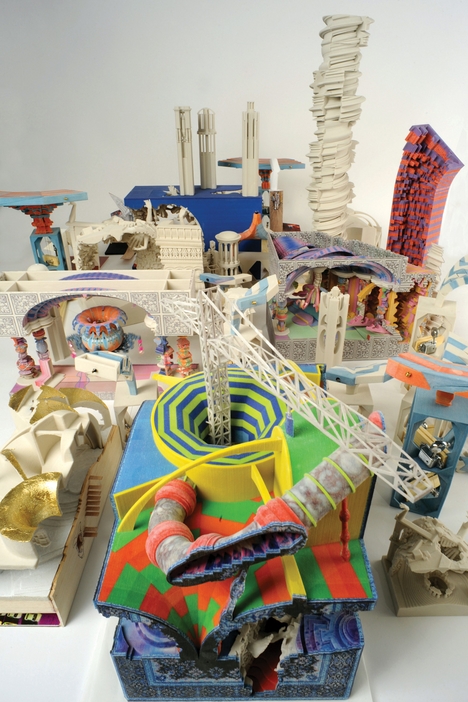 Bucking the rapid prototype infatuation sweeping British schools, Adam Nathaniel Furman in Dip 9 presented the most memorable models on show. His jewel-like proposals for a church in Rome were a delight. Dip units 5 and 3 presented strong and easily identifiable installations, but elsewhere the ubiquitous component- based and mathematically generated offerings left me feeling less excited.
Director Brett Steele says on the school's website: "We are reshaping how we present and share information, both for newcomers and those who are already a part of our school community." Perhaps he could begin by introducing just a little more legibility to the summer show without destroying its energy, and give this obviously world-class institution a chance to let its work be understood more clearly by the visiting public.
Gerrard O'Carroll
(The AA Projects Review Continues until July 26 at 36 Bedford Square, London WC1)
Mackintosh School of Architecture
Pros Links to overseas schools of architecture are bringing new energy and direction.
Cons Transition from traditional approach to drawing and technical competence is slow compared with other schools.
Standout students Nicholas Crawford, Samuel Whatman, Craig Kirk
3/5
The Mac's show has all the familiarity of an old acquaintance. The school has always set out its stall in the territory of the large-scale urban project, and the display is, as ever, the unedited evidence of the end-of-year examination. As such, it is "warts and all" — and none the worse for that since it clearly indicates the overall standard of work rather than the output of a few star students.
From the evidence on the walls, it has been something of a transition year as the school manoeuvres to become more politically engaged in the planning and urban design of its home city, while establishing strong links to those overseas schools of architecture it feels have relevance to its work in Glasgow.
This year, a term-long joint project for Stage 5 students with 12 students from Oslo's School of Architecture & Design has produced a tour-de-force demonstration of computing prowess from the other side of the North Sea that contrasts strongly with the Mac's still evolving transition from manual drawing and presentation techniques. This is not to say that computing skill does not exist at the Mac — quite the contrary — but considerable emphasis continues to be given to conventional plans, sections and elevations; but these too often reveal overinflated building programmes and hence tend to fail to deliver convincing urban solutions.

Fortunately, the structure of the project work is strong enough to counter the occasional aberration. This year, the plan of Glasgow has been divided into 12 north-south strips that students have studied intensively before determining the type and location of their final building design.
The results throw up interesting analyses, as well as some striking projects. Nicholas Crawford's seaplane terminal and hotel at the junction of the Broomielaw embankment and the Jamaica Street bridges over the River Clyde stands out for its combination of appropriateness of scale and design panache.
Gavin Goldsmith's museum of transport sits firmly within the Mac's rigorous technical tradition and acts a rationalist contrast to Zaha Hadid's emerging project on the Clyde's south side, while Steven Poliri's institute of construction skills successfully addresses a recognised black hole in industrial training provision.
The final year may be in transition but the work by lower years intimates a significant transformation is likely in the foreseeable future. Some of the Stage 3 projects sited within the Berwickshire port of Eyemouth are of a scale more suited to a city than a country town, but the presentational and technical adroitness on offer suggests much more is to come.
The masterplanning carried out by Stage 4 students along the Forth & Clyde Canal, especially Samuel Whatman's masterplan and housing at Port Dundas, indicates that the Mac's recently augmented teaching strength in this area of design is breeding skill and confidence.
Peter Wilson
Cambridge University
Pros Student initiative and an engaging dialogue with the degree school.
Cons One weekend's duration only, no diploma work.
Standout students Mike Taylor, Rebecca Roberts
4/5
Excluding the funereal Compendium exhibition two years ago at the RIBA, the 2008 student show is the first Cambridge expedition to London. The brick vaults and tall shed of the Village Underground gallery in Shoreditch formed the setting for this informal weekend show. Expertly organised and built by student society Arcsoc, it was rammed on the Friday launch night.
The work of the degree years — the school is still without a diploma course since its threatened closure in 2004 — was laid out in neat rows in the main space for the scrutiny of the London mob. The small scale of the delicate drawings and slightly woolly models so typical of Cambridge compare unfavourably at first glance with the 1:1 installations, intricate laser-cut models and frankly serial killer-like zeal of the presentation of some London shows.
But closer inspection reveals this familiar approach has been varied and enriched progressively from first to third years by the input of new design fellows — mostly young architects up from London to teach part-time. The preoccupation with the city continues, with all units this year focused on its grittier parts.
The first years' charmingly rendered interventions culminated in an urban hydrology pavilion project in Deptford, while the two second year units concentrated on Borough. A performance space and a local newspaper office were the briefs set by these units to negotiate new institutions within existing public spaces and communities. A pleasing parallel with the exhibition venue was achieved in Anthony Engi-Meacock's community library, wedged between two railway viaducts.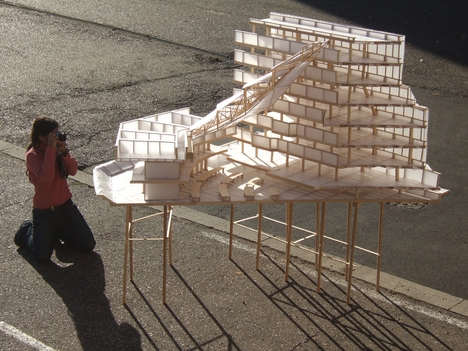 The third year was shared between four units with different approaches but a shared dialogue. Jay Gort and Fiona Scott's unit proposed small urban fragments as social condensers for creative industries in Woolwich. Mike Taylor's riverside belvedere was especially assured in its sculptural and material qualities.
Tom Emerson and Max Beckenbauer's unit investigated the tectonic possibilities of a sustainable architecture, taking on the real brief of a giant Olympic canteen to be converted into three schools. Huge translucent box-kite study models of Wren's Trinity Library and Stirling's History Library illuminated one of the vaults. Rebecca Roberts' model was on a similar scale, its cooling towers caught within a framework promising an exciting and integrated approach to sustainability.
David Hills' and Sam Potter's unit looked at the changing lifestyles of the old, using Lacaton & Vassal-inspired strategies to reinvent existing modernist buildings in Waterloo. Eddie Can's unit produced the sort of visuals that won London the Olympic games but which we cannot now apparently afford to build.
It is a positive move for Cambridge to exhibit in London, if at least to show that the school is still there and still engaging with the world beyond its charmed circle.
James Payne