Welfare Island
When architects like Louis Kahn, Jose Luis Sert and Philip Johnson all work on the same project you would expect something special to result. Deborah Waroff reports from July 13, 1973
Can even the architecture of Louis Kahn, Jose Luis Sert, Kallman & McKinnell, and John Johansen among others persuade rich white people to live in the same community with poor black people in New York City?
Will good architecture and inspired planning be enough to allow 5,000 families comprising 18,000 people of low, moderate, middle and high income to live together?
We'll all find out starting in September 1974 when the first phases of New York's Welfare Island new town development begin to be inhabited.
There have been some good omens. Abe Levitt and Bob Litke plan to move their families back from the suburbs to Welfare Island. Litke heads the Welfare Island Development Corporation and Levitt is its chief architect.

Enquiries about flats for sale have begun to come in from many other middle-class people although the co-operative sales office won't open until later this summer.
Also, Welfare Island is a project of New York State's Urban Development Corporation. And the UDC is a pretty together organisation. Its boss is the inimitable Ed Logue.
Logue made his name in urban renewal at New Haven and then moved on to head the Boston Redevelopment Authority. There he supervised the building of Government Centre and turned the BRA into probably the most effective planning authority in America.
Planning power
When Logue steps on toes bones splinter, but he generally hires good designers and he gets things done.
The UDC was set up by the New York State Legislature in 1968 to improve the abysmal standards of public authority housing. Its brief ranged from development of low, moderate and middle income housing through industrial and cultural facilities.
And its powers are far wider ranging that those of most American planning authorities. It can float state bonds to fund projects and has in this way raised over $50m for providing the infrastructure on Welfare Island. But it works with private industry and designers, offering low interest mortgages to developers.
The 1968 birth of the UDC was not a moment too soon for Welfare Island. Originally the Blackwell family's farm and named after them, its ownership passed to New York City about a century ago.
The city used it for public purposes – a penitentiary, smallpox hospital, cemetery and insane asylum were all located there. By 1968 the institutions were dying out and the city began to debate what to do with the land.
Eventually it was decided that the two hospitals still operative, which employ 3200 people between them, would stay. The city agreed on a development scheme with the UDC.
Master plan
Philip Johnson and John Burgee were commissioned to draw up a master plan for a new town development. And the city leased the island for 99 years to the UDC on terms so complex that it is said only one man in the state, a UDC lawyer, fully understands them.
The city will be getting income from ground rents, rates and payments in lieu of rates (on properties like subsidised housing which are not necessarily taxable under US law). 
The Philip Johnson plan for Welfare Island has in the main been adhered to. The island is 2.5 miles long and 800ft wide. Town development has been concentrated in a central portion less than a mile long and is divided into two sections – Northtown and Southtown.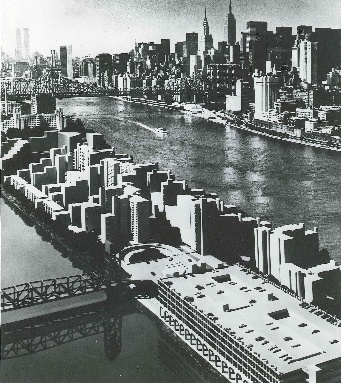 As punctuation mark between the two lie the six-acre Blackwell Park and Blackwell House. Built in 1789 and currently being restored, the house is believed to be the last remaining early farmhouse in New York City.
The town development area is located between two existing bridges. One, the 59th Street Bridge made famous by Simon and Garfunkel, offers only pedestrian access, and inconvenient pedestrian access at that, to the island via a lift. It carries heavy traffic between Manhattan and Queens, and borders Southtown.
To the north, the Welfare Island Bridge to Queens is and will remain the island's road link to the outside world. But no private cars will cruise around Welfare Island. They will drive straight off the bridge into Kallman & McKinnell's concrete Motorgate, with eventual multi-storey parking capacity for 2000 cars.
The Motorgate will also house two supermarkets, a post office, a fire station and an electric mini-bus terminal. The electric mini-buses will carry islanders, visitors and hospital workers free of charge.
Main Street the town's only road, runs from the Motorgate down the centre of the island through Northtown and ends in a loop around Southtown. It has been deliberately angled and curved to offer interesting glimpses of townscapes. Also for the sake of a good view, blocks of housing are arranged to allow intermittent looks at the river and Manhattan or Queens beyond from Main Street.
Housing is planned to provide a high spine along the centre of the island with progressively lower units towards the eastern and western shores. While the general scheme has been held to, with buildings varying from four to 20 storeys, some may have to be higher than Johnson intended.
Another deviation from the plan is that commercial development has been leaked from the town centre – where Johnson intended to contain it – along Main Street into Northtown. This is because shops will be needed to service the first residents at Northtown in 1974, while the town centre, in Southtown, won't be ready until 1976. Housing in Southtown won't be ready until 1978 or 79, because a city laundry must be moved before construction can begin.
Considerable parklands and amenities have been provided, considering the small size of the island site. These are expected to be used by New Yorkers at large as well as islanders. The entire island is ringed by a riverside promenade – a remarkable thing in New York City, where all too few out of many miles of waterfront are ever enjoyed.
In memoriam
At the southern-most tip of the island is the 10-acre South Point Park. Here, Louis Kahn will build a memorial to Franklin Delano Roosevelt. In fact, Welfare Island was recently re-christened Roosevelt Island in his honour. Appropriately enough, FDR's Works Progress Administration helped support Kahn during the depression.
There has been some difficulty in getting all of several parties involved to approve a design for a memorial, and the final design hadn't been made public as of late June. The programme is for " a walk through monument uniting architecture and sculpture, landscape and seascape, to recall the President and his deeds". It also must have toilets.
 A six-acre sports park and sports hall will be slipped under the 59th Street Bridge. And a 25-acre ecological park on the north side of the island will serve not only as a recreational facility but also as a teaching station for the Welfare Island school system and for visiting schools.
Apart from the design, certain conditions must be fulfilled for Welfare Island to succeed as a lively mixed community. Good schools are necessary to lure the middle classes back from the suburbs and would also be a real drawing card for New York City residents.
Welfare Island's schools seem certain to be interesting, though a shortage of dollars may prevent them being excellent. An open-plan school system will serve 3,200 children from the youngest through the sixth-formers.
School journeys
Fifteen school stations and four-day care centres are to be distributed around the island. Small groups, mostly containing 200 to 300 pupils will be based in each. All will travel around the island to take advantage of centralised and specialised facilities; older children will travel more than younger ones.
Virtually all of the school units will be linked to a housing complex in some way. The school designed by John Johansen and due to open at the same time as his upper and middle income housing units is located under the housing to the rear, by the river. A school designed by Jose Luis Sert to go with his first phase lower and moderate income housing is entered from Main Street but through a passage under housing.
All schools will feature large open spaces that contain a number of classes simultaneously, allowing space to be adapted at will for team teaching, tutorial, independent student work, or whatever. The problem is that unregimented learning requires careful advanced planning, and planning costs money.
Gardens adjacent to schools will provide outdoor play space for younger children, while older ones will go for exercise to the sports hall and park. Equally, school facilities are expected to be shared by the community.
Another pre-condition to Welfare Island's success, it strikes me, is that the crime rate will have to be seen to be relatively low, or else middle and upper income people will not flock to fork out good money to live there.
But then, I have a feeling that Welfare Island might just end up with a fairly low crime rate by New York standards – partly because the enthusiasm with which UDC officials discuss the project makes muggings seem almost irrelevant, and partly because it will be a small, discreet, pioneering community.
Postscript:
This story originally appeare in BD on July 13, 1973.