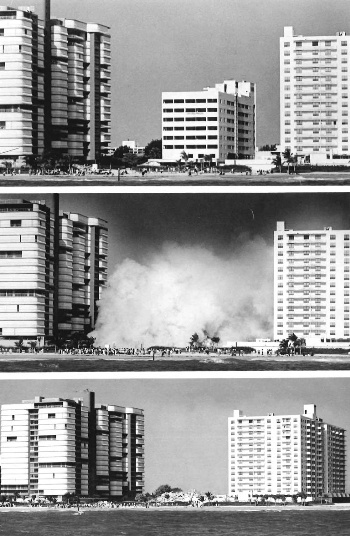 Date August 18, 1981
Subject The Ivanhoe Hotel
Location Miami
In the week that we consider innovative approaches to hotel design, we look back 31 years to the sudden demise of one of the most glamorous hotels in south Florida.
In the 1950s, Bal Harbour and Miami Beach were considered to be America's Riviera, a magnet for the era's top musicians and entertainers. The Ivanhoe was one of a number of beachfront hotels built during the decade, its Pump Room Lounge fast becoming a popular haunt of Count Basie and Guy Lombardo.
However, as economic and real estate dynamics shifted, many hotel owners opted to convert their sites into condominiums. The Ivanhoe made way for a 17-storey condominium built by a Canadian company. Today, only the Sea View remains of the post-war hotels that once lined Bal Harbour.