Only lions missing from Spartan Munich
As the Soane Museum features an exhibit on stadiums, we look back to the 1972 Munich Games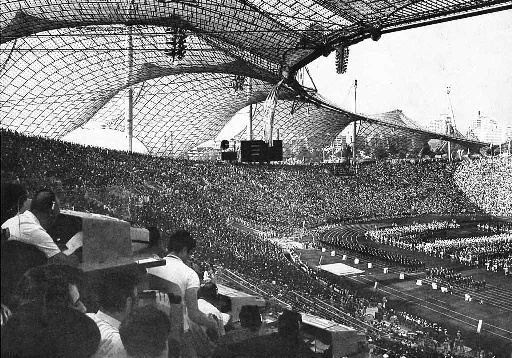 Date April 1972
Architect Günter Behnisch
Project Munich Olympic Stadium
In the week BD reviews the Stadia exhibition at Sir John Soane's Museum, we look back to when Munich's Olympic Stadium was featured in BD.
The world's largest roof, it had 75,000sq m of acrylic sheeting, 270 miles of steel cable and 123 foundation blocks — and cost twice as much as Munich's hospital building programme.
But BD was not impressed.
"The architect has used a very ordinary mullion detail and flat glazing which looks exceedingly uncomfortable and out of place against the natural form of the net,"
noted the critic.
"The facilities are smooth, nattily designed with rounded corners all over the place, but are, spacewise and environmentally, to put it politely, minimal."
Athletes' quarters were Spartan enough to recall those of ancient Rome. As Karl Schwanzer, architect of the BMW headquarters, asked when looking around the changing rooms and service areas beneath the stadiums: "But where are the lions?"