We look back at the drawing of the apartment Tony Fretton designed for Depeche Mode producer Daniel Miller, in the week we review the architect's Tower Wharf Café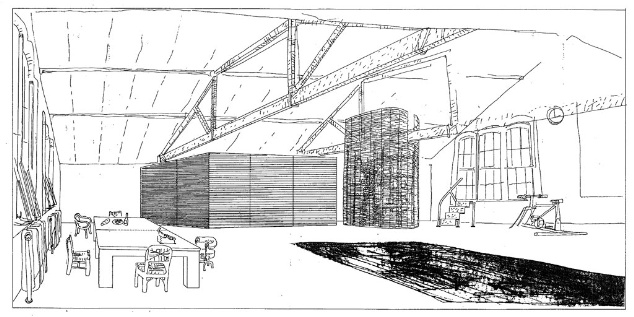 Date 1989
Architect Tony Fretton
Project Apartment for Daniel Miller
In the week that we review Tony Fretton's Tower Wharf Café, and with his monograph Buildings and Their Territories coming out soon, we look back at this 1989 drawing of the apartment he designed for Daniel Miller, the music producer behind Depeche Mode and founder of Mute Records.
The overall intention for the apartment-cum-recording studio was to achieve a casual arrangement of objects within the landscape of the former mill. This improvised quality meant a scattering of magazines or a jauntily placed exercise bike wouldn't look out of place — it was even specified that the table was to have mismatched chairs.
Peter St John and Mark Pimlott, who drew the perspective, also worked on the project. Fretton described the scheme as a conciliation between his own "reticent forms driven by function and idea" and their "willingness to work on form itself as a vehicle for their artistic intelligence".
It was the client's decision to have his recording studio opposite the railway line that, for Fretton, made the project "damned hard but at the same time magnificently worthwhile".