The Secret History Of Our Streets
BBC 2 series continues
July 4 & 11, 9pm
BBC2's series on the changing demographics of London streets lacks balance but is compelling viewing
The premise for this six-part series is both simple and intriguing. Each episode takes a London street and charts its shifting demographic profile. It sets out to update the maps of Victorian social reformer Charles Booth, who charted the city by social and economic class.
The first episode revealed that the programme-makers have a specific axe to grind. Deptford High Street's slow descent from "well-to-do" to "vicious and semi-criminal" was depicted as nothing compared to the wrecking ball of post-war planning. It was portrayed as a fine piece of historic London destroyed by the misguided do-goodism of council planning departments obsessed with slum clearance.
One doesn't have to be a wholesale apologist for post-war planning to find this an overly crude analysis. Throughout, architects and planners were cast as faceless bureaucrats, intent on uprooting working-class communities. Their plans were never put in a context of homelessness, bomb damage or unregulated slum landlords.
In this context, the "streets" of the title began to take on a specifically ideological meaning. Georgian and Victorian street patterns were taken as an almost natural landscape, a degree zero of urban planning that could never be deviated from or improved upon.
Subtle class cleansing
The second programme, on Camberwell Grove, took on this theme explicitly, visiting residents who had been in the vanguard of the 1960s conservation movement.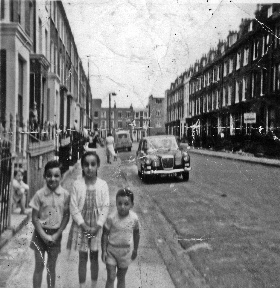 The street's post-war story is one of slow but inexorable gentrification. It began as a Georgian speculative development for well-off city workers. By the 1950s, though, it had become a working-class district and the houses were divided up. Sharp-eyed architects and other professionals spotted the quality of these and bought them up cheap. Slowly, the working-class tenants moved on. The subtle class cleansing was not remarked on by the programme-makers.
The new residents straddled an uncomfortable split between a laudable preference for refurbishment and a vociferous Nimbyism. Their commitment to conservation led them to oppose any new development unless it was faux-Georgian.
For all its defending of working-class communities, the programme seemed happiest when the streets in question were returned to the middle classes. The astronomical property prices of Georgian streets were offered as proof of the idiocy of post-war planning. In doing so, it subtly endorsed the idea of housing as investment opportunity rather than social necessity.
Moving up the social scale, the viewing became more painful in other ways. The episode on Portland Road in Notting Hill offered the spectacle of an almost ineffably posh banker "giving it all up" to live in a shipping container in his family's country estate. He was driven by a snobbish disdain for his (admittedly hideous) neighbours, all of whom were busy obsessively charting their relative position in the street's economic hierarchy. The local council had colluded in this process by landscaping the street to screen off the council housing.
Fascinating insights
The series offered other fascinating insights. Who knew that half of the Caledonian Road was owned by a Cypriot landlord busy constructing a network of flats in the basements of Islington? "Build now, get planning permission later," he boasted unwisely, while escorting the cameras around a warren of windowless apartments.
The Caledonian Road episode was one of the best. The makers let the people and places do the talking. TV programmes are never likely to satisfy a specialist audience, but as an Open University production one might have expected a more academically balanced approach. Even so, it offered a compelling history — secret or otherwise — of London's streets.