Olympic stadium deserves better than West Ham
Populous's stadium is now a much-loved symbol of sporting success and it deserves to have a genuinely public use
Whether or not London's Olympic stadium wins the Stirling Prize next month, it's become as much a symbol of British sporting success as Beijing's "Bird's Nest" stadium was to the Chinese when they staged the Olympics four years ago.
Despite being a global landmark, these days the Bird's Nest is mainly empty after a number of money-making ventures failed to take off. And this is exactly what the organisers of the London Games wanted to avoid. But they'd not factored in that after such an exhilarating and uplifting summer, people feel that they want a say in the stadium's future.
As BD has said before, West Ham taking over the stadium was always a basket case of an idea. The club has been evasive about exactly how much it was prepared to pay towards the cost of making it suitable for football. And no wonder. As BD reveals this week, it is offering a measly £3 million towards a bill of £160 million, relying on the taxpayer to fund the rest.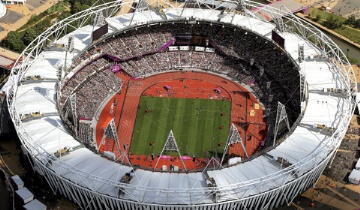 Source: PA
Leaving aside that most of us would recoil at the idea of visiting a public park with 60,000 football supporters milling around it every other Saturday, public subsidy for West Ham is morally wrong. The stadium has already cost us £540 million — the Olympics a whopping £9.3 billion — and yet the fact that West Ham's bid is the only serious one on the table suggests that those in charge of legacy want to get the venue off their hands, and off their books, as quickly as possible. The spectre of the Dome lives on, it seems.
West Ham is a middle-ranking club with strong local support, but that's all. It's doubtful that, once the novelty factor has worn off, it could ever fill the stadium.
There may need to be an element of public subsidy as the stadium was clearly not designed to be multi-purpose — as few decent stadiums ever are. At the same time, there should be plenty of operators with ideas that would not simply make more financial sense but would be welcomed as a genuinely public use for a building that we have grown, rather unexpectedly, to love.