The landscape is ours to share
The landscape is ours to share Elizabeth Hopkirk's article, "London reveals its high hopes" (Culture October 19), on the High Line for London ideas competition contains two key errors that must be put right.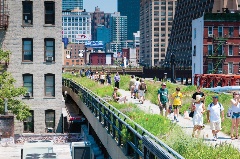 Source: Ferran Traité Soler/ISTOCK
First, that green infrastructure, without the flash and dazzle of the High Line, is an "otherwise worthy-but-dull concept". The work of green infrastructure is immensely interesting. While it sometimes flies under the radar, perhaps because it's often geared towards providing vital ecosystem services, the Olympic Park and the Lea Valley, for example, have demonstrated just how dramatic a well-planned green infrastructure development can be.
Second, ecological thinking encourages collaboration. So it is irresponsible for any one profession to try to mark out territory. Today's landscape architects are comfortable with, even welcoming of, the fact that the borders of our profession are open. They know this is symbolic of the co-operative spirit necessary for the future quality of life, and even the survival, of our species.
Green infrastructure requires the involvement of landscape architects, but it also needs non-hierarchical collaboration among professionals, including architects. We are all coming out of our dark and musty silos these days, and it's fresh and green outside in this new landscape we share.
Tim Waterman
Honorary editor, Landscape: The Journal of the Landscape Institute
Elizabeth Hopkirk's piece about the High Line in New York reminds me of when a similar idea was attempted in London in the mid-1980s. When Broadgate was in the formative stages (I worked with Peter Foggo at Arup Associates at the time), there was a proposal to landscape the redundant railway line from Hackney that terminated at Broad Street Station, which was demolished as part of the scheme.
I recall that Peter and Stuart Lipton talked to David Bellamy about its viability as a landscape and then approached Hackney Council. Sadly, they were being heavily "rate-capped" by the Thatcher government at the time, and opted instead for a cash payment through what is now the section 106 scheme.
Had it gone ahead, a cycle path and landscaped route would have stretched from Hackney/Islington right into the City. It is still there in bits, but the bridges have largely gone so it is unusable. Part of it was absorbed into the new East London Line.
Rab Bennetts
London
Postscript:
Email letters to buildingdesign@ubm.com including your postal address. We reserve the right to edit all correspondence