Sennett's wrong about Old Street
I think Richard Sennett's comments on the Old Street technical institute (News December 14) may be a knee-jerk reaction — it depends on how the building is run.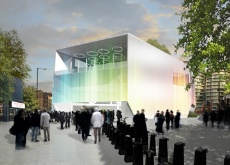 If you believe 00:/, then it will be community-led with a socially linked agenda, funding etc. — a bulwark of resistance against the gentrification of the area which (and here Sennett is correct) drives creativity out of informally established "thriving" districts.
00:/ certainly has a track record of sticking up for the little guy, so I would give it the benefit of the doubt before assuming it has sold out to bag a big commission.
Undoubtedly a more stupid name than "Silicon Roundabout" can hardly be imagined, and this implies the opposite of what 00:/ is actually talking about.
Sennett's comparison of Shoreditch with Masdar is shocking in its irrelevance — this district shares nothing in common with the pipe dream of an oil baron looking for somewhere to hide his money.
Robert Slinger
via bdonline
Postscript:
email letters to buildingdesign@ubm.com including your postal address. We reserve the right to edit all correspondence