No war over UCL Stratford plans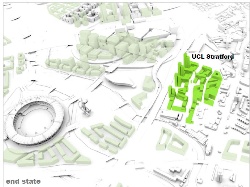 To frame the debate regarding UCL's proposals to develop a university quarter in Stratford as a "war" between the Bartlett and UCL is nonsense, and an unhelpful polarisation.
Rather than feeling "snubbed", what many academics across UCL — not just in the Bartlett — are arguing for is an open debate based on reasoned arguments, and for any scheme to be community-led, and developed through the insights of UCL's rich heritage of pioneering research.
As you point out, it is not yet clear what housing provision is proposed. There were formerly 700 dwellings on this site, and so we believe it should be possible to accommodate that much social rented housing plus some space for leaseholders and freeholders.
It would have to be quite dense but that is where UCL's expertise could be drawn upon. It is also possible to plan a redevelopment so residents move within the site rather than being "decanted" and then permitted to move back.
You also misrepresent the proposals, suggesting that a scheme has already been "designed", and that whole departments will move to Stratford — a quick look at the UCL Stratford website would have helped you inform your readers.
That said, we concur with the tone of Amanda Baillieu's editorial, and hope BD will continue to follow this debate, albeit with more careful analysis of its complexities.
Ben Campkin, UCL Urban Laboratory
Michael Edwards, The Bartlett School of Planning
Postscript:
Email letters to buildingdesign@ubm.com including your postal address. We reserve the right to edit all correspondence