Lancaster flats' new lease of life
I found Boots' reaction of "wanton vandalism" in describing Union North's Lancaster flats surprisingly stuffy (BD November 9).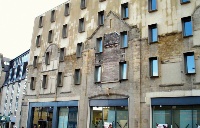 The architects have taken a very dull building and given it not just a good and much-needed kicking but also a new lease of life. Commendable, I'd have thought, and certainly worthy of more detailed examination and critique.
What's refreshing about Union North's approach is its willingness to get down and dirty with older buildings in a way that architecture used to do ever since the locals took over Diocletian's Palace in Split.
Robert Sakula
London
Postscript:
email letters to buildingdesign@ubm.com including your postal address. We reserve the right to edit all correspondence