Don't start on Skylon Tower
I am unsure whether John Assael has taken the time to visit the Skylon Tower prior to his very public fuming (Boots November 9), but if he would like me to show him round I would be very pleased to do so. He might share the views of the Housing Design Award panel which shortlisted the New Festival Quarter development this year.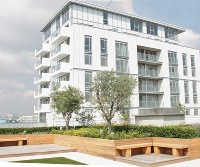 Skylon Tower is the centrepiece building of New Festival Quarter, so-called because the site falls within the Festival of Britain Conservation Area, where housing was constructed in the 1950s to show the best in urban planning. The names draw on this connection.
Skylon Tower is a marketing name. It will enjoy the title of Moro Apartments, after Peter Moro, joint architect for the Festival Hall. This only leaves: the Skylon Best Western Hotel, Dublin; Skylon Conran restaurant; Skylon Samsonite suitcase; Skylon Nike training shoe; Skylon space module — and Barratt Homes' Great Western Quarter, where it has reappeared on a "Coming Soon" promotion.
Is Assael not the architect for this development? I look forward to your favourite client being given similar treatment.
Ian Gorst
Bellway Homes
Postscript:
email letters to buildingdesign@ubm.com including your postal address. We reserve the right to edit all correspondence