Cutty Sark design sinks to bottom
Last week's announcement that the 2012 Carbuncle Cup had been awarded to the restoration of the Cutty Sark generated an unprecedentedly large response. Here we present some of the dramatically opposing views that were posted online — Ed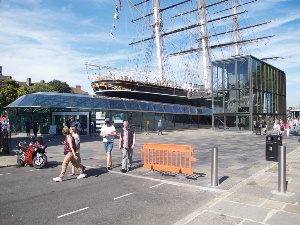 The mutilations inflicted on the Cutty Sark are a disgrace to architecture. Congratulations to BD for taking such an uncompromising editorial line in this issue.
Perhaps the same design team might like to apply their blue-sky thinking to more of the world's priceless treasures.
HMS Victory: why not cleave her in two along the keel, pull the sections apart by, say, 15m and insert a state-of-the-art glass and steel visitor attraction or retail space?
Stonehenge: why not suspend the whole lot by steel cables, anchored through each stone, from a giant viewing gantry above a sunken glass-roofed pavilion so visitors have a choice of walking around beneath the henge to view the dangling sarsens from below while pressing information buttons or eating a burger, or enjoying unrivalled views from above?
The Pantheon: ever wondered what it would be like to pass through the oculus? Why not insert a steel and glass lift shaft giving access to a series of lettable terraces, some for shops, others for meetings or tutorials. After passing through the 2,000-year-old gape, visitors could trample about on the concrete dome protected by a cantilevered glass balustrade beneath a teflon fabric roof.
The intervention has severely damaged the irreplaceable historic fabric of this once majestic vessel and denied future generations the opportunity of enjoying her unique beauty.
R Butler
The glass lets it down
The area beneath the Cutty Sark is great — when I visited there was a family activity taking place, and my kids had a great time drawing and running about, enjoying the sense of space after the confined spaces on the ship.
I don't have a problem with the "banal" lift tower — what do you want, some kind of sub-Calatrava sculpture competing with the boat?
Hoisting the ship on struts — I don't see how BD journalists are qualified to pass judgment on what is an area of disagreement between expert engineers.
But then… the glass skirt. This really is so ghastly that it deserves the Carbuncle Cup on its own. I've got nothing against hovercrafts, but I think the Cutty Sark worked better as a clipper.
QA
Indulgent reporting
This award is so disappointing. It's like a Heat or Grazia magazine circling fat on other people's bodies. In a time when the profession is in real and immediate crisis, this kind of red-top sensationalism shows just how much the format of BD allows the staff to indulge a type of journalism far removed from the rigour required by other architectural media.
Poppy McNee
Get over it
This design is absolutely horrible, and it's disappointing to know it wasn't by some horrid no-name outfit but by Grimshaw. I have no idea how the concept and execution can be defended from any point of view — it's ugly, insensitive and depressingly poorly detailed.
As for people complaining about the Carbuncle Cup — get off your high horse. What, you had no idea that someone notices how rubbish some of your designs are? Constructive criticism is healthy. Get over it.
Alisa Selezneva
Go west
Compare how the architects glazed in the dock of the SS Great Britain in Bristol to Greenwich's hideous example. Out west, you still get a feel for what the ship looked like, with dank walls and dripping water.
The Cutty Sark, once such a maritime icon, has effectively been ruined by this grossly detailed and poorly conceived extension. In the same way that the road to hell is paved with good intentions, the worst designs come from those talented and well-meaning architects who cannot see past their computer screens.
Andrew Daws
A little harsh
I'm sorry BD. I don't agree with this one. Now, I've visited the Cutty Sark recently and sure, the glass should have been frameless. It should have had soft contours to reflect the ocean this ship would have sailed through for all those years. I agree that the entrances seem like a bit of an after-thought.
It's a shame really, because I think Grimshaw is capable of much more — the National Space Centre in Leicester is a good example of this. However, the Cutty Sark did go over budget and will continue to cost a significant amount of money. Creating a corporate space below the ship is the solution and it will help make the ship financially self-sufficient.
So yes, the restoration is not perfect, but there is no way in my mind that this entry was capable of beating the Orbit.
Alex Henderson
Great work
Well done on a hilarious and beautifully written piece of criticism — the most amusing article I have read for some time. Rather depressing too, though, I fear. This is indeed how all "great" architects (including those that are great solely in their own minds — which would be most architects) approach problem-solving, with the fun design bit starting before the dull analytical bit has been done properly.
I'm interested in context, so I became an urban designer. It appals me how few architects are able to look beyond a cunning "look at me" solution to work out the actual brief.
Duncan Whatmore
Longniddry