Camberwell's parallel universe
As an architect and a resident of south London, I was interested to see the Akerman Health Centre in Camberwell featured (News November 16).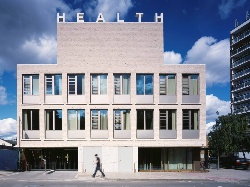 Source: Ioana Marinescu
Looking at the facade, I recalled that about 15 years ago I bought a second-hand copy of Normand's Parallel of the Orders of Architecture.
This is a book that was likely to be on many an architect's shelves between the 1820s up until the second world war. It was used to give guidance on the number and placing of windows, how to make a facade appear to support an attic storey or other central feature, how to deal with the lowest floor, and where to place the entrance.
This guidance did still allow some choice, as some judgement was required. It could be said that this allowed for self-expression, though this was probably less of
a concern then than it seems to be now. Today, using "rules" to help design a facade smacks of inhibiting creativity; flouting the rules seems to be considered as something worthy of note. However, the "rules" would have at least achieved mediocrity.
Mediocrity is generally frowned on, but it would have produced a tidy facade which would have found favour with most people, rather than something "original" which may appeal to a few.
Peter Cooke
London SE5
Postscript:
email letters to buildingdesign@ubm.com including your postal address. We reserve the right to edit all correspondence