Building what they can sell
By editing my letter in response to Hank Dittmar's article on the new Building for Life standards (Opinion October 5) and by giving it a misleading title, "Leave the detail to housebuilders", it has conveyed a totally different message to what was intended.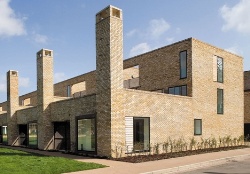 It is not the detail that should be left to housebuilders, it's the choice of product they think they can sell.
I originally wrote: "When architects venture into the latest example of a suburban development by an average national housebuilder, they probably dismiss the design as beyond reprieve, even though the same housebuilder may have achieved national recognition, such as the development at St Andrews in Bow, east London, by Barratt. Why should the same developer choose to sell good design in the city, but to be completely unadventurous outside it? Could this have something to do with the market and the innate conservatism of many people who choose a suburban lifestyle?
If there was unmet demand all over the UK for replicas of Newhall in Harlow, or Accordia in Cambridge, most housebuilders would move to meet it."
Surely, if architects are to have a greater involvement in this kind of work, they need to tread that fine line between always working to push out the frontiers of good design, and, at the same time, gaining a better understanding of the position that housebuilders find themselves in?
David Levitt
London WC1
Postscript:
email letters to buildingdesign@ubm.com including your postal address. We reserve the right to edit all correspondence