Walkie-Talkie needs answering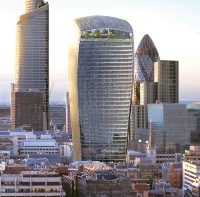 The whole issue of alpha male architects strutting their design obsessions at the expense of urban sensibility is one that really needs to be addressed — not least by the glossies that too often hype this stuff, and then students follow slavishly. Well done for raising it — we look forward to more.
Alan Berman
Oxford
Polls of foreign investors repeatedly make clear that one of the factors that gives the City its edge is the quality of its environment, to which historic buildings contribute hugely (Leader November 16).
What is really damaging is the silly competition between the City and Canary Wharf.
The latter is a perfect place for tall buildings like the Walkie-Talkie. But the "Singapore effect", where a few historic buildings survive as baubles in the shadow of glass cliffs, is really beginning to diminish the City.
Someone (the mayor?) needs to ban tall buildings in the City while positively encouraging them in Canary Wharf and perhaps Croydon. The legacy of Wren is too important to be wrecked by transient planners fighting turf wars.
Robert Bargery
via bdonline
Postscript:
email letters to buildingdesign@ubm.com including your postal address. We reserve the right to edit all correspondence