Goodwin may prove a wise investment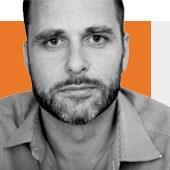 In a recession, someone with a track record of parting people from their cash has their uses
Fred Goodwin, he once of the Royal Bank of scotland, has a new job: international business adviser to RMJM.
It was a low-key appointment: there was no public announcement, and a man used to over £4 million a year will have to content himself, it is reported, with a miserly £100,000; but predictable outrage has duly ensued.
MSP Margo MacDonald is "faintly disgusted" that Goodwin was not only already drawing a pension beyond the wildest dreams of most, but is also about to enter paid employment.
There have been calls for the Scottish government to boycott RMJM, and plenty of dark references to its part in the Holyrood parliament saga.
The e-architect website has filled up with excoriation of a risk-addicted incompetent, and the site has been forced to make the statement: "Please note we are not RMJM, this website has no connection to the practice."
Unlike Goodwin. This is, isn't it, a classic case of the "haves" looking after their own. Peter Morrison, group CEO of RMJM (who is not an architect) has social connections with Goodwin, and it was to his family's villa in France that the disgraced plutocrat fled last year.
It's also not RMJM's first controversial appointment in recent months. Last September Will Alsop — no stranger to business collapse — was taken on to head a new RMJM franchise in London. Then the comments ran rather differently, applauding the marriage of a "maverick" and a respected commercial practice, rather than an irresponsible liability.
It's a little too easy, isn't it, to join the chorus of condemnation; but actually this appointment is admirable realpolitik at work. If nothing else, Goodwin has a proven track record at getting people to part with their money, and in architecture, that's half the battle. The mythical £100,000 he's going to get paid will seem like a lot of money to most architects, but, presumably, RMJM expect him to make a good deal more. Looked at from the point of view of a financier, I'm afraid it's peanuts.
Let local politicos fulminate — it's not as if the next year or so is going to be a golden era for public patronage anyway, and even if RMJM originated in Edinburgh, its business is now far east of Holyrood.
The last time I went to the practice's office, the lobby was filled with simulations of a skyscraper in Ekaterinburg. It is in bed with Gazprom; and while Russian oligarchs and Arabian sheikhs might ask "How did Goodwin get away with it?" I suspect they do so with admiration rather than disgust. He is one of their own.
In times like these, there is nothing more sensible for an architect's practice than to get inside the minds of their potential clients and, until recently, Goodwin was one of them: he gained good experience of ambitious building development at the vast RBS headquarters at Gogarburn outside Edinburgh.
This appointment might just be a personal favour that's been blown out of proportion: it's certainly a risky move. We don't have to like it, but it might just work.
Postscript:
To read more from our columnists click here