Designing for floods? The answer is plain
There's plenty of information out there for architects, says Robert Barker, a director at Baca Architects, designers of the Amphibious House
The recent flooding in the UK reminds us as architects that we need to make sure our buildings and their users understand the environment in which they are located.
Source: Shutterstock
Despite living close to rivers and the coast many people appear to be completely surprised when it floods. For the last nine years there has been a change in policy direction from flood prevention to flood risk management and this is an important message that all architects should understand. We should help our clients to understand flood risk but ultimately to determine how to manage flood risk, as stopping flooding altogether is not always an option.
Over the last few years, and particularly in response to the 2007 floods, new data has been developed to provide the most comprehensive understanding of flood risk we have ever had – at much of it is freely available on the internet. The Environment Agency publishes flood maps for river and coastal flooding, surface water flooding (which can occur miles from a river) and even the areas affected if a reservoir or dam bursts. Surface water is an unseen foe and is a major design primer for architecture in urban settings.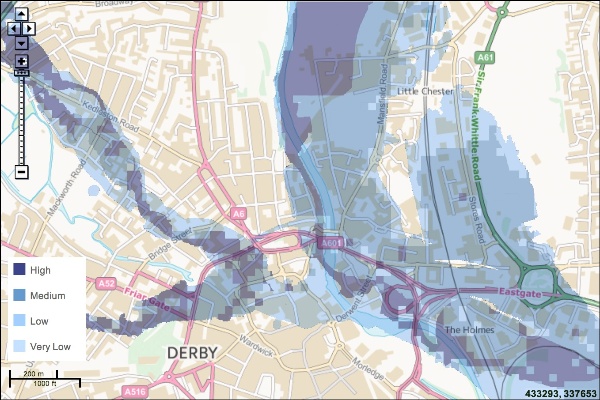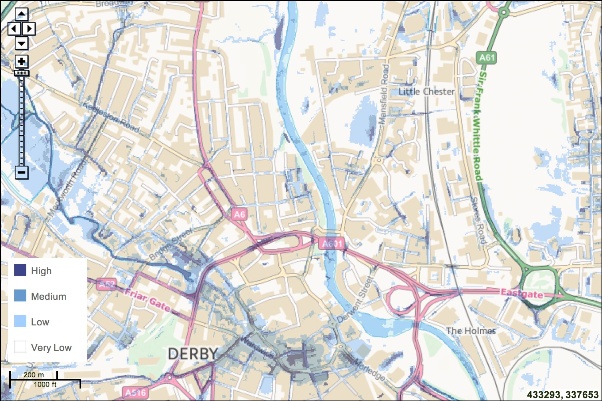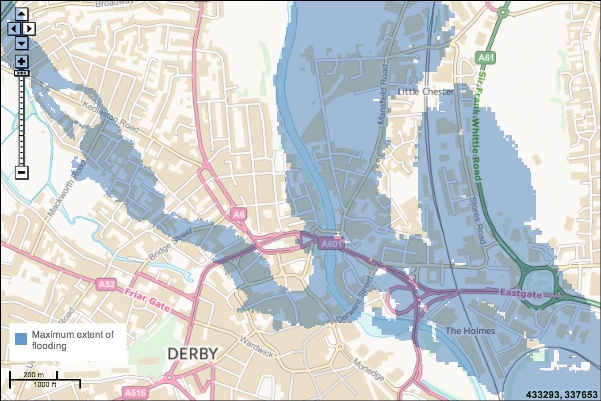 These maps won't tell you how deep the floodwater can be or how fast it will flow but this at least gives a good idea of the likelihood an area may flood and importantly the need to find out more information. A common sense approach to considering flood risk is to look at the topography of a site. Water follows the path of least resistance so it will always channel in low valleys and pond in depressions. If a site is located on a hill it is not always safe to assume that it is not at risk of flooding as it could be within a local channel or depression.
There is guidance for architects published online on the RIBA sustainability toolkit, the RIBA 'designing for flood risk' and through the 'LifE project' and 'LifE handbook' by Baca Architects and the BRE.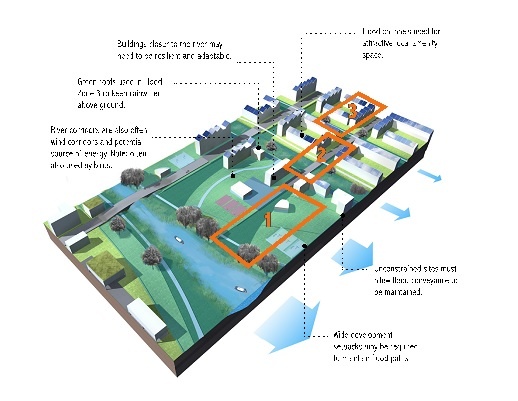 Source: Baca Architects © Crown
Respectively, these look at individual flood risk management measures, flood risk assessment for new buildings and sustainable masterplanning that works with water in flood-risk areas. There are more detailed publications by CLG (regarding flood performance in new buildings), Defra (regarding flood hazard) and CIRIA (with regards to sustainable drainage or SuDS).
A comprehensive guide to Cities and Flooding in the developing world is published by The World Bank and free to download.
There are many different technologies on the market that can help retro-fit existing buildings but it is important to choose the right one for the particular circumstance. For instance all clients would prefer that their building keeps flood water out (resists) but when the depth of water is such that it would cause structural damage to the building this is not likely to be the best solution.
For new-builds, designs options include:
·         Dry proof / resistant design – which keeps water out
·         Wet proof / or resilient design – which allows water into buildings but the buildings are designed to resist damage from floodwater
·         Elevated – where the ground floor is raised above the peak flood level
·         Floating – where the house is constructed on a floating base and rests within a static water body.
·         Amphibious – where the whole house is designed to float during a flood but at other times it will sit on or in the ground.
A coherent flood-resilient masterplan may consist of a combination of the above building types organised around urban landscape that uses soft and hard landscape that cumulatively mitigate flood risk across the site.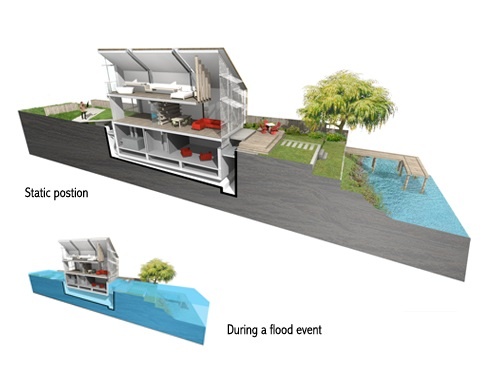 Source: Baca Architects
It is clearly important to know one's limits and to know when to ask for advice. There are many engineers who specialise in flood risk management and drainage design, as well as a few architects.
As the government talks about building new cities it is important that we start to consider water right from the outset in the same way that we have slowly transformed our approach to sustainable design. Water is both a friend and a foe, an asset and a threat. As architects we should look at water management as an opportunity to create beautiful places – through way-finding rills, water squares, rain gardens and protective public realm. And we can do this now, not only for new cities but every time we change our existing towns and cities.