Will architects benefit from relaxed planning rules?
Yes, says Manuel Nogueira, it's a positive step even though it relies on proper implementation; while Ian Hogarth is tired of government 'simplifications' making things worse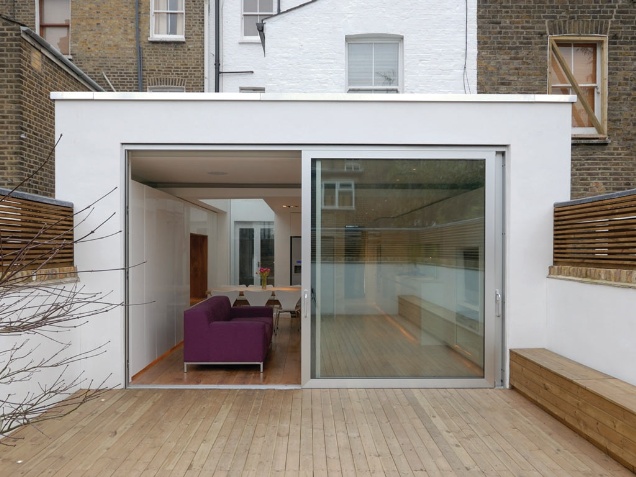 Source: hogartharchitects.co.uk
Yes
Manuel Nogueira
MD of AndArchitects and chair of RIBA Small Practice Group
In principle this is a positive step towards opening up more work for small practices.
But as usual with planning, the devil is in the detail. With Pickles, Prisk and Boles there should be a strong implementation team. We just need to worry about what exactly
they are going to implement.
The introduction of changes to permitted development rights will help smaller practices.
Easing the change of use from commercial to residential and increasing the 3-4m rule on permitted extensions should increase the viability and speed of getting permission through permitted development instead of having to make a planning application.
We would still always recommend our clients make a permitted development application and get formal paperwork so there is absolutely no doubt.
The key factor is how these new amendments are interpreted by local authorities.
With the last changes to permitted development we found there were quite a few loopholes and room for misinterpretation.
One example is the effect of the 3-4m rule on a standard terraced house — which allows an extension to be built out from the original rear and side walls — and how basement development is included in this.
With many planning officers overloaded, we have found many more applications head down the permitted development route and these rules affect the design and layout of the extensions.
Therefore, it's important these new rules are reviewed by planners and architects together during the short consultation period.
No
Ian Hogarth
Founder of Hogarth Architects
I am a bit long in the tooth to get excited about plans to relax planning rules. As with the start of a new football season, early hopes and promises are soon dashed.
In 2008, we were delivered another radical revision of the permitted development rights, which sounded great until it arrived. It was an obtuse exercise in verbal reasoning, making Kafka and Vonnegut look like Janet and John.
If you lived in a detached house in Milton Keynes the amendment was right up your cul-de-sac. But in built-up areas, the regulations fell apart. No two councils could agree the same interpretation of where the 4m was measured from in an L-shaped terrace. The result was an ugly muddle, compared with the simple volumetric rule it replaced.
More recently we had the NPPF, an outstandingly vague document replacing the clear guidance of the former PPGs and PPSs. It contains wildly varying approaches to issues such as flood risk, and it's difficult to find a council that can tell you its view on any proposal. We now have to use planning consultants on nearly every job.
All that the latest "simplifications" will do is see people bypassing architects altogether, and good design will be the casualty.
So what should the government do?
1. Nothing — meddling has not helped.
2. Remind planners that the presumption should always favour development (councils take the opposite view).
3. Reduce VAT on refurbishments and extensions (surely the most sustainable form of development) from 20% to 5%, paid for by 5% VAT on new-builds. Why will this never happen? The 100 or so big developers who are the main beneficiaries all have lobbyists, while 15 million households do not.