Should Battersea Power Station be sold to the highest bidder?
Yes, says Property Week's Giles Barrie, the taxpayer deserves the largest return possible; but the president of Save Britain's Heritage, Marcus Binney, feels a sensitive design could transform the landmark into a creative hub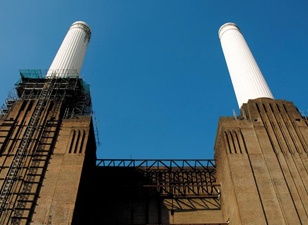 "Yes"
Giles Barrie
Editor in chief, Property Week
Battersea Power Station should undoubtedly be sold to the highest bidder, although this doesn't mean that the winning party won't face challenges ahead. The reason why it should go to someone willing to pay top dollar is simple — it is the British and Irish taxpayer who will reap the rewards.
The main lenders to the Irish-backed vehicle previously due to develop Battersea — and which went into administration — were Lloyds Bank and the Bank of Ireland.
Lloyds is now controlled by the UK taxpayer and Ireland's National Asset Management Agency has taken responsibility for the loan provided by the Bank of Ireland.
Neither is in a position to look a gift horse in the mouth, so a cash offer of up to £400 million from Malaysian developers SP Setia and Sime Darby should be accepted immediately.
This is more than the value of Lloyds and Bank of Ireland's £330 million loans on the site, with secondary lender and former owner Victor Hwang receiving the £70 million balance.
This won't guarantee, however, that the site will be redeveloped either successfully or straight away.
Having paid so much, the developers will need to build large, dense blocks that will need to generate a fierce volume of sales.
I will conclude by returning to a previous argument I raised in BD: if Battersea Power Station's listing was revoked, the site could have raised up to £200 million more — and would also have allowed a much richer and bigger mix of affordable and rented accommodation, and homes for sale on central London's last great, vacant site.
"No"
Marcus Binney
President of Save Britain's Heritage
For 30 years successive owners of Battersea Power Station have focused their energies on getting ever bigger, juicier planning consents for the 40 acre site. The most recently approved Viñoly scheme would cover the roofs of Giles Gilbert Scott's colossus in giant penthouse pods that obscure its splendid silhouette.
All around it, blocks of apartments and hotels are so crammed together it is hard to see how people will want to occupy them.
The time has therefore come to put the emphasis on quality not quantity. With massive housing developments planned all the way from Vauxhall Bridge to Chelsea Bridge, there
is already a surfeit of high-end housing stock hereabouts. Fortunately Sime Darby, preferred purchaser of the site, has done some classy developments in Malaysia that may point to a better way forward.
The other part of the problem is that successive developers have been cramming in ever more shops, offices and apartments into the power station itself. With Allies & Morrison we are now proposing a step-by-step approach to conversion that will see the great open space between the chimneys used for major pop concerts and events.
Just as a range of creative industries are springing up around the O2, we believe Battersea Power Station will be an attractive address for creative organisations.
In 1981 I wrote to the head of the Central Electricity Generating Board suggesting that Bankside Power Station should become an art gallery. Today it's the most visited museum of contemporary art in the world. Bankside too once looked too big to save. With a new vision, the new owners of Battersea Power Station have the chance to transform it into one of the busiest and most popular landmarks in London.