Is the Venice Biennale self-indulgent?
Yes, says Hani Rashid, it offers distilled data instead of powerful solutions; while Ann Marie Aguilar thinks it's no indulgence for architects to talk to each other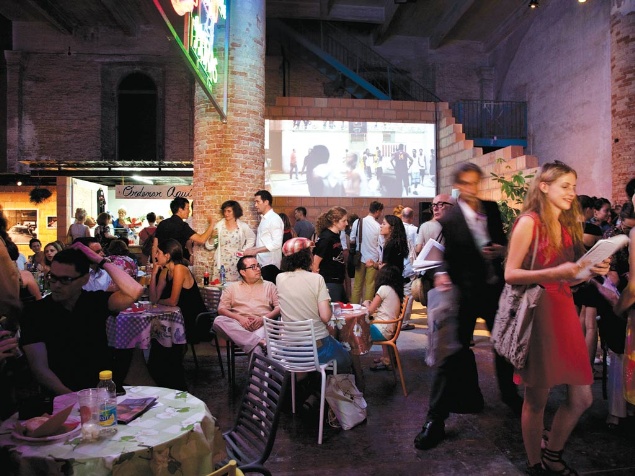 Yes
Hani Rashid
Principal at Asymptote Architecture, New York
To an extent the Venice Architecture Biennale is an exercise in self-indulgence — and there is nothing necessarily wrong with that, providing such indulgence leads to provocative and productive outcomes.
In art, science, literature and film, indulgence is often a virtue, especially when the outcome is brilliant or revolutionary.
However, the problem with this particular architecture biennale (Common Ground) is an approach that falls short in leading us towards new visions and unexpected inspirations for the future of our discipline.
There has been a self-conscious veering away from inviting potentially contentious ideas with respect to the making of architecture and/or dealing with the complexities of cities and space making.
There has instead been a dubious and recurring tendency to chronicle issues — which can often be enlightening and provocative — as a perhaps misguided indulgence of the less productive kind.
What we all hope to gain from these distillations of data is more than mere meditations and anecdotes. Rather, a way to contend with a vast array of issues before us.
The documenting of revisited ideas, existing building documentation (note the preponderant number of Thomas Struth photographs), data and diagrams all managed to simply state, with eloquence at times, the facts. As visually compelling as it was, this seemed weirdly backwards and involute when set against the increasingly complex global situation we are confronted with.
The biennale could have offered powerful solutions and perhaps even some wildly pertinent proposals.
No
Ann Marie Aguilar
Associate director at Arup Associates
Architects today are under immense pressure to deliver significant amounts of work to unrelenting deadlines. They deserve time for reflection in order to reconnect with their core beliefs. No other creative professional would consider these stolen moments to be self-indulgent.
The architecture biennale is one of the few events that is about the culture of architecture and some of the ideas and thinking that we hope our best clients will commission us to realise. It is one of the few opportunities for architects to show the poetry of what they are doing within a non-pay-and-play context.
It may be criticised for being an insular conversation, but architects need to talk to each other, now more than ever. They need to debate the very things that matter to ensure architecture remains a vital part of culture and something that politicians, public bodies and private patrons believe is worth investment.
David Chipperfield's theme of Common Ground propels the debate of unified responsibility — and not just to architects, but engineers, ecologists, behavioural analysts, clients and, most important, the general public. It is time to share these social burdens, which communicate through a common vocabulary and too often end up as missed opportunities.
The exhibit by Urban Think Tank and Justin McGuirk on Venezuela's Torre de David is about as far from indulgent as one could imagine. An unfinished banking skyscraper made into a vertical community by 3,000 squatters is sending a clear message.
Informal communities, from slum cities to migrant worker housing, are commonplace — they are our common ground and need a collaborative solution. Forums, like the biennale, push the debate out into the open.