Have the national papers let architects down?
Yes, says David Chipperfield, it is useful to compare European coverage; while Jonathan Glancey says it is a symptom of economic pressures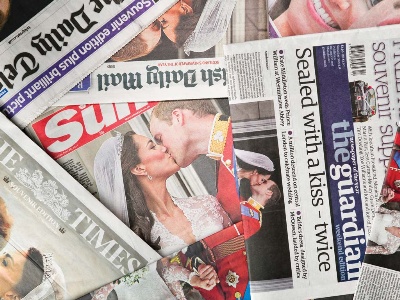 Source: istock
"Yes"
David Chipperfield
Director, David Chipperfield Architects
In an attempt not to dig a deeper hole for myself, let me position this question in a wider context. Insofar as the media, in all its forms, plays a role in our understanding of the complex and contradictory issues that can be grouped under the general title of architecture, then I would say our national press does not help as much as it could.
We cannot complain about the architectural writers on our "serious newspapers". We may question the lack of licence that they are given and the pressure they are under to make a story, but this now seems to be the nature of journalism.
It is possible to argue, however, that in other European countries the amount of articles often representing different opinions on the same subject does seem to help the understanding of the issues. This is my experience in Germany and Switzerland. Clearly this depends on a different idea of state and the public sector.
It also exists because their cultural pages haven't succumbed so profoundly to the subject of lifestyle.
Nothing speaks louder about architecture than architecture itself. There are talented architects quietly proving that good architecture can make a difference. Their cause is not helped by the anecdotal bantering and prejudice that contaminates the debate and culminates in the education secret-ary pronouncing that employing architects is a waste of money.
The discussion is not only a matter of review-ing what has been built but should also be concerned with creating a climate within which good architecture can be realised. For this we need more discussion of the real issues, not only by national press but also by the professional press, by politicians, planners and by architects themselves.
"NO"
Jonathan Glancey
Journalist
"Architecture", said Mies, "is the will of an epoch translated into space." What this means, more or less, is society gets the architecture it deserves. The same, perhaps, is true of the press: here, the will of the epoch is translated into words, and, increasingly, into blogs, tweets and other forms of enervating digitalia.
The quality of ideas and writing in the national press at any given time, however, is a reflection not so much of individual writers or of architecture itself but of the will of editors and proprietors and their need to sell papers.
Only a few decades ago, there was little coverage of architecture in British newspapers beyond the latest "high-rise horror". In the eighties, a gener-ation of writers ready to champion contemporary architecture was given its head at exactly the right moment, culturally and economically, by a big-spirited generation of Fleet Street editors.
Deyan Sudjic shone at the Sunday Times. Martin Pawley walked on the wild side in the Guardian. And, at the end of that "designer" decade, Andreas Whittam Smith gave me a weekly broadsheet page to edit as I pleased in the Independent. Sir David and other rising talents were beneficiaries.
Today, there is little money, let alone largesse, for architecture in the press. Is architecture, perhaps, too slow for febrile tweeting, too measured for dyspeptic times? While it would be good if the press gave it more considered atten-tion than it does, what I think Sir David really wants is a swing of the cultural pendulum that will place architecture back on its pedestal even as much of the national press hyper-pixilates into territory where architect-ure, and the very need to think, might seem old fashioned, barely worthy — if we're not careful —
of the occasional "brief" ignominiously sand-wiched between Pip and Pop, the Bedtime Pets, and "What's on Telly".